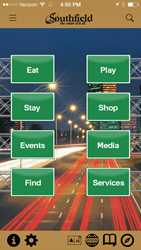 We are excited to offer the community a convenient new tool to stay connected to Southfield. This new app will provide a wealth of information to users about the City and all its attractions, restaurants, shopping and more
(PRWEB) January 29, 2015
The city of Southfield just launched a free new app, SPOTSouthfield, now available for download on both Apple and Android smartphones and tablets. Developed by Austin-based Bar-Z, the app combines features and information from multiple Southfield city departments providing a comprehensive resource to the city.
"We are excited to offer the community a convenient new tool to stay connected to Southfield," commented City Administrator Fred Zorn. "This new app will provide a wealth of information to users about the City and all its attractions, restaurants, shopping and more."
SPOTSouthfield has been in development for the past several months under the direction of a committee comprised of representatives from various city departments including Technology Services, Parks & Recreation, Human Resources, Community Relations and the Southfield Public Library and using Bar-Z technology. The app provides users with detailed information on the go in numerous categories, including:

'Eat' – a breakdown of various dining options in the city as well as 'nearby' option;
'Play' – entertainment and recreation activities for the whole family from golf to theatres to nightlife;
'Stay' – all of the hotel and other accommodation options in Southfield from one night to extended stay;
'Shop' – from automotive to florists and everything in between;
'Events' – everything to do in the city in one convenient spot;
'Media' – from static videos to Cable 15 live, users can also create a special Southfield postcard for their friends, family or themselves;
'Find' – get where you need to go with this useful tool that helps you navigate your way to your destination; and
'Services' – allows users to connect with city department or services with ease.
Download is quick, easy and free-of-charge in both the Apple App Store for iPhones and iPads and Google Play for Android phones and devices.
The app was developed in coordination with Bar-Z, a mobile app and web development firm that helps organizations deliver creative content to people on numerous devices. Bar-Z works with clients to make publishing content to multiple platforms easier. Future plans for the mobile app include the ability for users to report issues in the city such as potholes directly to the appropriate department as well as the option to book golf tee times right from your phone.
"We are excited to work with the city of Southfield to help them develop an app that reaches across departments, meets the needs of the city and offers residents both practical and fun information," Bar-Z CEO Lee Little said. "The future app updates will continue to advance these goals and provide even more value to app users; we're proud to help bring them into the mobile age."
About Bar-Z
Bar-Z is a mobile software development firm based in West Lake Hills, TX. Bringing 9 years of experience, the company offers a variety of unique customized digital solutions for a variety of niche industries. Bar-Z works with organizations such as publishers and broadcasters, theme parks and attractions, municipalities, convention and visitor bureaus, and destination marketing organizations to help them engage and communicate with their audiences and realize new revenue opportunities. For more information, visit http://bar-z.com.