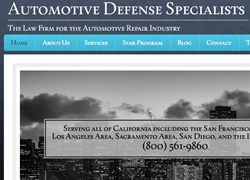 California's SMOG check program has grown ever more complicated.
Sacramento, CA (PRWEB) November 21, 2015
Automotive Defense Specialists, a California law firm of attorneys defending against Bureau of Automotive Repair actions at http://automotivedefense.com/, is proud to announce an informational guide has been published on its blog on the controversy surrounding the use of the BAR97 machines vs. the newer OIS machines. "BAR97," of course, stands for California's Bureau of Automotive Repair and its BAR-97 emissions inspection system. "OIS" stands for On-board Diagnostic Inspection System and is a newer generation of SMOG check technology.
"California's SMOG check system has grown ever more complicated, especially the state's STAR program," explained William Ferreira of the Specialized Law Firm of Automotive Defense Specialists. "Our blog has become an important community resource for SMOG check stations and STAR Program participants to keep up on timely issues. Our latest informational guide is a quick and useful overview on the topic."
To read the blog post, please visit http://automotivedefense.com/?p=1499. There one can read not only the blog post on this topic, but also scroll up to the blog, in general, which touches on all types of issues of the Bureau of Automotive Repair in California.
SMOG Checks in California
SMOG checks in California are increasingly complicated. Whereas there were originally only SMOG stations, now the state has not only SMOG check stations but also SMOG check only stations as well as participants in the Bureau of Automotive Repair's STAR program. In addition, the machines and technology to verify SMOG compliance are constantly changing. With new machines can come new complexity and new regulatory requirements, however. Current confusions over which machines are required and often be resolved only by reaching out to persons with specialized knowledge, both on a technical and on an administrative level.
About Automotive Repair Specialists
Automotive Repair Specialists is a top law firm representing auto repair facilities, SMOG check stations, and technicians in every facet of their legal needs including accusations from the Bureau of Auto Repair. The company offers free phone consultations to auto shops, mechanics, technicians and others who are facing disciplinary actions from the California Bureau of Automotive Repair.
Web. http://automotivedefense.com/
Tel. (415) 392-2886