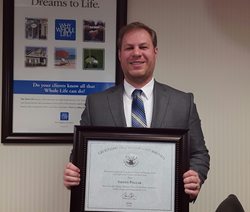 "Congratulations on receiving the President's Volunteer Service Award, and thank you for helping to address the most pressing needs in your community and our country." -President Barack Obama
Melville, NY (PRWEB) January 19, 2017
Children's Learning Foundation, an educational charity, announced today that Steve Polgar was honored with the President's Volunteer Service Lifetime Achievement Award signed by President Barack Obama. At just 33 years old, Steve Polgar is very young to receive the President's Lifetime Achievement Award. This is one of the last awards bestowed by the 44th President of the United States as Barack Obama's presidency is coming to an end.
"Congratulations on receiving the President's Volunteer Service Award, and thank you for helping to address the most pressing needs in your community and our country." "Your volunteer service demonstrates the kind of commitment to your community that moves America a step closer to its great promise." "Thank you for your devotion to service and for doing all you can to shape a better tomorrow for our great Nation." -President Barack Obama
Steve Polgar found a love for volunteering in High School, teaching senior citizens how to use computers. As a Freshman in college he went on to become the founder of Children's Learning Foundation in 2002. After college while working, Mr. Polgar made time to volunteer for American Red Cross, American Cancer Society, American Heart Association, Susan G. Komen Foundation, and other charities. He mainly focused on helping the groups fundraise for their main yearly events. He volunteers his time and uses his large network of contacts to build a stronger nation through community service.
Steve Polgar is an Agent at New York Life in Melville, NY. Outside of his career, he is President and Chair of Children's Learning Foundation and a Board Member and Treasurer of Long Island Atheists. Steve Polgar grew up in Oneonta, NY, graduated from Delaware Valley University, and currently lives in Bay Shore, NY.
https://www.facebook.com/stevepolgarnyl/
The President's Volunteer Service Award is a civil award bestowed by the President of the United States. The Lifetime Achievement Award was established to honor volunteers that volunteering at least 4000 hours to charities and nonprofits without any payment or reimbursement. The award can be granted to individuals, families, and organizations located throughout the United States.
Children's Learning Foundation is a 100% volunteer organization with the mission to make learning fun and interactive for students. This is done by funding schools, educational programs, and projects of teachers.