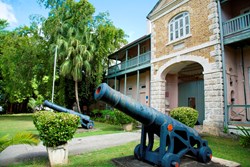 This is a fantastic opportunity for people to learn more about the history of this great island.
(PRWEB) September 14, 2013
Bridgetown, Barbados – The Barbados Museum and Historical Society (BMHS) is showcasing a commemorative exhibition to celebrate its 80th anniversary.
"This is a fantastic opportunity for people to learn more about the history of this great island. I'm sure there will be something that everyone can take away from this exhibition – it's not just for history enthusiasts," as mentioned by Brett Callaghan, founder and managing director of Totally Barbados.
"I encourage all to get involved. This celebration of the BMHS will showcase the significance of some of our most symbolic artifacts as well as emphasize the importance of the museum in preserving our proud heritage."
The exhibition, running to the 29th of November, 2013 is being held at the UNESCO World Heritage Site of the Barbados Museum, alongside the Garrison.
In the lead up to this year's 30 November Independence Day celebrations, the 80th Anniversary Exhibition features 80 iconic artifacts carefully selected to tell the story of Barbados' rich heritage and culture.
The exhibition highlights the natural, social, artistic and military history of Barbados and gives the public an insight into traditional artifacts such as the Caribbean Federal Federation Flag, an original mauby container, and Sir Garry Sobers' original cricket bat.
The unique collection explores the historical relevance of these artifacts as well as their connections to the past, present and future of Barbados, to the wider Caribbean and beyond.
A great day out for the family, both adults and children will enjoy this 80th Anniversary Exhibition. It draws attention to Barbadian symbols to help locals and visitors alike to understand the significance of the chosen collection of items such photographs, objects, and costumes.
The Barbados Museum is itself steeped in history – the 19th century buildings were originally the Garrison's military prison. The BMHS also has a collection of over 500,000 artifacts, including per-historic and historic artifacts, and also houses Caribbean Slave Trade archives.
With over 7 galleries to visit such as the African Gallery and Children's Gallery, there's something to suit all interests.
The 80th Anniversary Exhibition is open 7 days a week. Opening hours are Monday to Saturday 9am to 5pm, and Sunday 2pm to 6pm.
Admission to the Museum is free for locals and Caricom nationals with photo ID.
Otherwise, adults are BDS $15, and children are BDS $7.50.
For more information, please visit the Barbados Museum , or phone +1 (246) 427-0201.
BOILER PLATE
About Totally Barbados and Brecal Inc.
Brecal Inc., operating under the name 'Totally Barbados' was founded by Brett Callaghan and is based in Barbados in the Caribbean. The company was incorporated February 24th, 2005.
Barbados island travel tourism guide, Totally Barbados provides both visitors and locals detailed information about the island Barbados.
Thousands of tourists, visitors and locals alike use Totally Barbados every day to find restaurant and hotel locations/reviews and to stay up-to-date on current events and attractions, along with other business and tourism information about the island of Barbados.
Totally Barbados is the authoritative online source for information that would be of interest to people seeking to learn about Barbados or thinking about visiting the island. By providing timely information for visitors and locals alike it is our intention to further cement our position as the leading online source of information for all things Barbadian.
Media Contact
Founder and Managing Director
Brett Callaghan
Brecal Inc. / Totally Barbados
140 B Durants Fairways,
Christ Church, BB17097,
Barbados.
For more information on Brecal Inc. / Totally Barbados, please call (866) 978-5898 or (246) 420-2420.
Email: service(at)totallybarbados(dot)com
Information received and complied by Brett Callaghan and supporting staff of Totally Barbados.