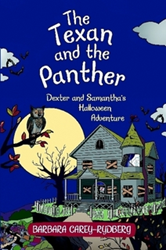 St. Francis, Minn. (PRWEB) October 22, 2014
A night of trick-or-treating leads to a memorable Halloween adventure in "The Texan and the Panther: Dexter and Samantha's Halloween Adventure" (published by Lulu), the new children's book from author Barbara Carey-Rydberg.
Brother and sister Dexter and Samantha are the new kids on the block in their neighborhood, and they're excited to spend their first Halloween there trick-or-treating and dressing up.
Costumed as a Texas cowboy and a jungle panther respectively, Dexter and Samantha set out armed with a flashlight to explore their new town. When they notice a dark house up on a hill, they decide it's worth the long hike for the delicious treats that might be awaiting them.
Venturing beyond their neighborhood fills the children with anticipation and the thrill of exploring. However, when they arrive at the house on the hill, instead of finding the treats they expected, Dexter and Samantha have an unusual trick played on them by an eccentric ghost and a giggly goblin.
Featuring full-color illustrations, whimsical characters and singsong, rhyming text, "The Texan and the Panther" is an ideal way to get children in the Halloween spirit as they follow the characters' own night filled with wonder, adventure and – as every Halloween should – tricks and treats.
"The Texan and the Panther"
By Barbara Carey-Rydberg
Hardcover | 6 x 9 in | 32 pages | ISBN 9781483416212
Softcover | 6 x 9 in | 32 pages | ISBN 9781483416205
E-Book | ISBN 9781483416229
About the Author
Barbara Carey-Rydberg lives in St. Francis, Minnesota with her husband, Paul, and their dog, Bandit. She is the mother of two daughters and grandmother to five. She has been a freelance court reporter in the Minneapolis-St. Paul area for the past 30 years. More information is available at http://www.thetexanandthepanther.com.
Lulu empowers people of all ages to explore and express their interests, passions and expertise through books, photography and art. Since introducing self-publishing in 2002, Lulu has empowered creators in more than 225 countries and territories to produce nearly two million publications. Lulu Jr. allows children to become published authors, encouraging creativity, strengthening literacy and building self-esteem. Picture.com offers professional photography of collegiate and professional sports, memorable and historic events, fine art and home décor. For more information, please visit http://www.lulu.com.