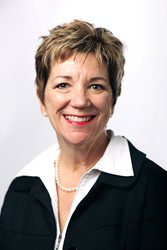 I am inspired by the potential of design to impact lives and the opportunity to challenge design thinking in the next generation of designers. I look forward to contributing to the Ringling legacy of creativity and innovation
Sarasota, FL (PRWEB) May 01, 2015
Ringling College of Art and Design today announced that Barbara S. Marini, FASID/IDEC, has been appointed Department Head of the Interior Design program.
A leader in strategic planning, visioning, curricular design, and program development, Ms. Marini comes to Ringling College with considerable academic experience, including her role as program chair at both the International Academy of Design and Technology in Troy, MI and College for Creative Studies in Detroit, MI. In addition, Barbara served as the National President for the American Society of Interior Designers from 2012-2013.
"We are looking forward to Barbara joining our creative community," said Ringling College Vice President for Academic Affairs Jeff Bellantoni. "Barbara's industry background and experience as an educator will be key to the future growth and success of the Interior Design program."
"I am so excited to join the Ringling College community and to be part of the energy surrounding the campus. I am inspired by the potential of design to impact lives and the opportunity to challenge design thinking in the next generation of designers. I look forward to contributing to the Ringling legacy of creativity and innovation," Ms. Marini said.
In addition to department chair positions, Barbara has served in faculty positions at Eastern Michigan University, Boston Architectural College, and Art Institute of Michigan. She has also held various positions with interior design firms, including her own, Marini & Associates, where she currently serves as principal. Barbara received her MS in Interior Design from Eastern Michigan University and her BA in Interior Design from Michigan State University. She is currently a doctoral candidate pursuing an Ed D. (Educational Leadership) from the College of Education, Department of Leadership and Counseling Eastern Michigan University, Ypsilanti, MI.
About Ringling College of Art and Design
Ringling College of Art and Design is a private, not-for-profit, fully accredited college offering the Bachelors of Fine Arts degree in 11 disciplines: Advertising Design, Computer Animation, Film, Fine Arts, Game Art, Graphic Design, Illustration, Interior Design, Motion Design, Photography & Imaging, and a Bachelor of Arts degree in the Business of Art & Design. Located in Sarasota on Florida's Gulf Coast, the picturesque 48-acre campus now includes more than 110 buildings, and enrolls nearly 1,300 students from 44 states and 54 countries. It is recognized as being among the best and most innovative visual arts colleges in the United States as well as a leader in the use of technology in the arts. http://www.ringling.edu