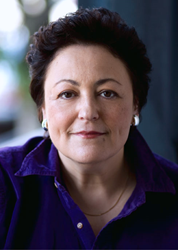 As an actress and voice artist, every new role is a challenge.
Prince Frederick, MD (PRWEB) October 23, 2014
Narrator and actress Barbara Rosenblat is scheduled to appear at the Indianapolis Public Library's Central Library Clowes Auditorium on November 10 from 6 to 8 p.m. At the event, cosponsored by the Indianapolis Public Library and Recorded Books, Rosenblat will speak about narrating audiobooks and then sign autographs for those in attendance.
Rosenblat is one of the most beloved and sought-after narrators of audiobooks in the country. During her career, she has won an unprecedented eight Audie Awards, the audiobook industry's equivalent of the Oscar. Rosenblat has leant her voice to such popular audiobooks as the Amelia Peabody mysteries by Elizabeth Peters, the Mrs. Pollifax series by Dorothy Gilman, the Alex Cooper mysteries by Linda Fairstein and the Anna Pigeon novels by Nevada Barr.
As an actress, Barbara has performed on Broadway, voiced many commercials and documentaries, and appeared on TV, including in her role as Miss Rosa on Netflix's original series Orange Is the New Black.
"As an actress and voice artist, every new role is a challenge," said Rosenblat. "But I don't think I have ever disappeared so completely into a role as when I took on Miss Rosa in Orange. Over two seasons, the writers gave me the great gift of plumbing the depths of this cancer-stricken inmate. I am overwhelmingly grateful for the good fortune of being a part of groundbreaking television."
Rosenblat has also recently published her first book, titled Audiobook Narrator: The Art of Narrating Audio Books.
###
For more information on this event, please visit the library website at http://www.indypl.org.
About Recorded Books
Recorded Books is the largest independent publisher of unabridged audiobooks and provider of digital content to the library, school, and retail markets. The company owns an exclusive catalog of over 13,500 audiobook titles narrated by professional, award-winning actors. Recorded Books provides digital audiobooks and eBooks to libraries through its proprietary OneClickdigital platform, as well as electronic resources, including digital magazines and films, through its proprietary RBdigital Gateway platform. The company was founded in 1979 and is headquartered in Prince Frederick, MD. For more information, visit http://www.recordedbooks.com.