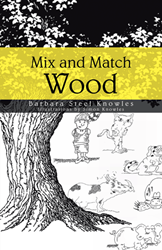 Oxford, England (PRWEB) June 29, 2014
In the children's fantasy adventure, "Mix and Match Wood" (published by Partridge Singapore), teacher and author Barbara Steel Knowles introduces readers to a young boy with physical challenges who is invited on the adventure of a lifetime in a land of magic, strange and beautiful creatures, and hope.
"Children inspired me to write this book," Knowles explains. "Every child who has touched my life will never be forgotten. I hope they remember me as a teacher with imagination and one who taught them to meet every challenge and embrace diversity as the spice of life."
The main character, John, lives in a place called Mix and Match Wood. He was born with one leg shorter than the other, which makes it hard for him to keep up with the other children. This makes John sad and lonely. One day, he meets the wise, old Elepig – a creature with an elephant head and a pig body. The Elepig has faced his own share of challenges fitting in, and he and John become fast friends. The Elepig takes John on a fantastic adventure to many exotic places, but, most importantly, to a place of acceptance of himself and others.
Written in simple and direct language, "Mix and Match Wood" celebrates diversity and aims to nourish readers' love of adventure. It reaches out to real issues of everyday life while still providing a chance for young and old to enter a world of fantasy.
"This enchanting tale has a lesson," Knowles writes. "We can live together in harmony if we can learn to accept people's differences."
"Mix and Match Wood"
By Barbara Steel Knowles
Hardcover | 5.5 x 8.5 in | 60 pages | ISBN 9781482896343
Softcover | 5.5 x 8.5 in | 60 pages | ISBN 9781482896336
E-Book | 60 pages | ISBN 9781482896350
Available at Amazon and Barnes & Noble.
About the Author
Barbara Steel Knowles was born and educated in England. She has been a teacher for more than 20 years, and has lived and worked in Cyprus, Germany and the Middle East. She is also a newspaper columnist and has collaborated on the publication of education articles.
Partridge Singapore is a partnership between the Penguin Group, the world's foremost trade book publisher, and Author Solutions LLC, the industry leader in supported self-publishing, that aims to help writers in Singapore, Malaysia, and the rest of Southeast Asia become published authors. Partridge Singapore gives authors in the region direct access to a comprehensive range of expert publishing services that meet industry standards but are more accessible to the market. For more information or to publish a book, visit partridgepublishing.com/singapore or call 800 101 2657 (Singapore) or 1 800 81 7340 (Malaysia). For the latest, follow @PartridgeSG on Twitter.