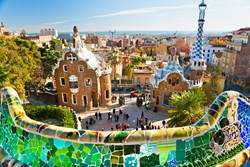 Numerous new Barcelona hotels have opened in recent years by international hotel brands in order to accommodate the increasing visitor numbers.
(PRWEB UK) 30 August 2013
Hosting the 1992 Summer Olympic Games has transformed Barcelona into a modern and dynamic city. Whilst sporting venues and facilities purposely built for the Games were generally seen as white elephants, the investments in the city's infrastructure, new hotels and tourism related facilities have no doubt turned Barcelona into one of the most popular tourist destinations in the world. According to Turisme de Barcelona, the city received over 7.4 million visitors in 2012, a 1.7% rise, and the upward trend is set to continue.
Like many great European city break destinations, Barcelona is bursting with rich history and colourful culture. Widely regarded as the Catalan capital's most famous son, Antoni Gaudí was the influential architect whose work can still be seen across Barcelona. His unique and distinctive style was immortalised in buildings such as the iconic Sagrada Família, Casa Batlló, Casa Milà and Park Güell, which continue to attract millions of visitors each year. Walking down the up-scale Passeig de Gràcia where these surreal Casas are located, past Plaça de Catalunya, leads to the famous La Rambla. The street itself and the surrounding areas epitomise the Spanish and Catalan culture. The network of narrow side streets is full of surprises, with unique shops, cafes, tapas bars and much more.
The Spanish are well known for their love of food and drink. For those who seek an authentic Catalan culinary experience, the world famous La Boqueria Food Market can also be found on La Rambla. Thousands of locals and tourists flock here to sample Spanish tapas, freshly cooked seafood and other local delicacies. For something slightly more contemporary but yet still thoroughly Spanish, the restaurant chain TapaTapa serves up delicious tapas dishes in a modern and comfortable environment at locations across the city.
However, what really sets Barcelona apart and gives it an advantage over other major European city destinations is that the city lies on the Mediterranean coast and is blessed with warm, sunny climate and long stretches of golden sandy beaches. Voted the best beach city in the world by National Geographic, there are no less than eight beaches in Barcelona including the popular Barceloneta, Sant Sebastià, Nova Icària and Bogatell. These beaches are also popular with walkers, cyclists, skaters as well as people who just want to come to relax. The Olympics had also transformed the once grim port area in the city into a luxury marina, entertainment and beautiful public spaces.
Numerous new Barcelona hotels have opened in recent years by international hotel brands in order to accommodate the increasing visitor numbers. They include the luxury W Hotel Barcelona located at Marina Port Vell and the prestigious Mandarin Oriental on Passeig de Gràcia. For those who are looking for alternative accommodation in Barcelona, more and more people are choosing to stay in self-catering apartments in Barcelona. Eixample, Universidad, Ciutat Vella, El Gòtic and El Born are just some of the popular areas where short stay Barcelona apartments can be found. Companies such as Airbnb, Homeaway and Alpha Holiday Lettings (http://www.AlphaHolidayLettings.com) have many centrally located Barcelona holiday rentals on offer, as well as other holiday apartments and villas in Spain.