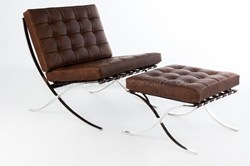 A chair is a very difficult object. A skyscraper is almost easier. That is why Chippendale is famous.

- Ludwig Mies van der Rohe
New York (PRWEB) August 14, 2013
The trend of internet shopping has surpassed exponentially the conventional way of offline shopping, parallel to how the e-books' annual sales at Amazon surpassed the paperback two years ago; so did online furniture shopping. Rove Concepts recently announced its new and exclusive custom selections of leathers to fuel the continued surge of demand in one of its finest reproduction by Mies Van Der Rohe's iconic masterpiece - the Barcelona Chair.
German design duo, Ludwig Mies van der Rohe and Lily Reich, created a cult following by using minimal and timeless designs. The Roman times and an Egyptian folding chair that symbolized power inspired Mies to create the most iconic design to date: the Barcelona Chair. With its sleek stainless steel frames and upgraded bovine leather, the Barcelona Chair was originally constructed to outfit the German Pavilion during the 1929 International Exposition in Barcelona and designed specifically to seat Spanish royalty. Although there is an old history behind the chair, this minimalist and timeless design has stood the test of time and continues to become one of the most reproduced chairs around the world for consumers.
For the highly hand-crafted reproduced Barcelona Chair and Ottoman at Rove Concepts, cushions are entirely hand sewn and stitched, and individual squares of leather are cut from a single hide and sewn, welted, and tufted. The frames come from a pure solid grade of stainless steel and 100% Full Grain Aniline Leather are used to upholster the furniture. The soft and supple leather is hand-picked and imported from Italian tanneries. Multiple colours are also offered and in three different kinds of leathers: Classic Leathers, Waxy Leathers, and Vintage Leathers. Like the original, it is a labour-intensive process based on quality and durability. What's not like the original is the price. At Rove Concepts, the Barcelona Chair sells for $1,195, whereas the original sells for more than $5,000.
At Rove Concepts, the tradition of using durable, quality materials is apparent throughout all of their timeless reproduced designs from popular designers, like Charles and Ray Eames and Eero Saarinen.
About Rove Concepts:
Rove Concepts, North America's premier choice for high-end, mid-century and modern designer reproductions, offers decor enthusiasts around the globe "affordable luxury" that lasts. Launched in 2010, the company has attracted the attention of decorators, artists, and home enthusiasts alike, but remains committed to their number one clients: hard-working furniture enthusiasts who appreciate modernism, quality and accessibility.
If you are an interior designer or interested shopper, Rove Concepts invites you to request Italian leather swatches - free of cost - to sample before purchasing any leather furniture on-line. Swatches will arrive within 2-5 business days.
For interested interior designers who desire to collaborate with Rove Concepts, you are eligible to receive trade discounts and dedicated assistance through sign-up only.
To receive the latest information on Rove Concepts' unparalleled reproductions, visit: http://www.RoveConcepts.com.