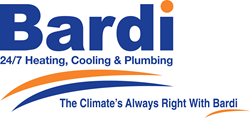 Summer is almost here, and you may already be thinking you should get your air conditioner checked out, but it's also important to make sure your gas grill is functioning properly
Atlanta, Georgia (PRWEB) May 22, 2015
With the summer barbecue season fast approaching, this is the perfect time of year to get your gas grill professionally cleaned and tuned-up. Atlanta HVAC service Bardi Heating, Cooling & Plumbing is offering a special rate to homeowners to have both their gas grill and air conditioning unit cleaned, inspected and safety-checked for $189 (a $268 value). This rate is good through the end of June, 2015.
"Summer is almost here, and you may already be thinking you should get your air conditioner checked out, but it's also important to make sure your gas grill is functioning properly," says Adam Bardi, Bardi's residential service and sales manager.
He recommends a professional cleaning and inspection of your outdoor grill at the start of every summer barbecue season (or more often if you grill year-round). "Your grill has probably been sitting idle all winter," Bardi says. "It's a good idea to have all the components inspected—the burners, gas lines, igniter system, propane tank, etc.—to make sure everything is still in good working order. Also, over the winter dust, grime and even critters can really accumulate, so the grill should have a deep cleaning as well."
If you are experiencing any kind of problems with your grill—it isn't cooking evenly, it's too hard to light, the flame sputters or originates from areas other than the burners, the temperature controls are hot to the touch, or you smell gas when the grill is on—these are all signs that your grill is in need of repair, which is another reason to have it inspected.
During the inspection and cleaning, Bardi's technicians will do everything possible to return your grill to tip-top shape. That includes a complete degreasing of all parts including the hood, control knobs, drip pans, racks, and pull-out tray; removal of cooking grids to check for rust and other unhealthy materials that may have built up; inspection of the burner orifices and venturi tubes for rust and blockages; testing of the spark igniter system; and examination of the propane cylinder hoses and natural gas connections for leaks.
"You get a very detailed, thorough inspection and cleaning, which many homeowners do not have the time or inclination to do themselves," Bardi says. "Once we're done, your grill is going to perform better, and you can feel good knowing you're cooking on a surface that is free of caked-on dirt, rust, carbon deposits and other harmful substances that could be transferred to your food."
To make an appointment for a gas grill and air conditioning inspection and cleaning, or for more information about any of Bardi's other services, call them at 770-263-5355, or visit their website at http://bardi.com.
About Bardi Heating, Cooling and Plumbing:
Bardi Heating, Cooling and Plumbing is a family-owned HVAC and plumbing company in Atlanta. Founded in 1989 by Alex and Susan Bardi, the company has been providing the Atlanta area with quality HVAC services for over 25 years. Bardi also offers plumbing repairs and services, and is home to an experienced management team as well as an outstanding team of NATE certified technicians, whose number one priority is to keep their customers satisfied by "always, always, always doing the right thing." Bardi provides free electronics pick-up and recycling on all service calls benefiting Nobis Works. For more information about energy efficient HVAC products, visit http://bardi.com or call 404-410-6643.