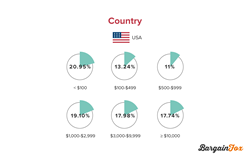 "Ask yourself a question? If you were faced with an unexpected financial emergency tomorrow, would you be prepared? If not, you're like a large percentage of Americans who lack savings." said Harsha Kiran, the CEO of Bargain Fox
seattle WA (PRWEB) June 20, 2016
"Ask yourself a question. If you were faced with an unexpected financial emergency tomorrow, would you be prepared? If not, you're like a large percentage of Americans who lack savings," said Harsha Kiran, the CEO of Bargain Fox.
The United States is one of the most prosperous nations on earth, but its citizens are so bad at saving money that a lot of them only have a few hundred dollars in the bank at any given time, according to a new study by Bargain Fox.
The research which utilized QuestionPro to survey over 3,500 people in the US, UK and India, revealed that 1 in 3 Americans have less than $500 set aside for financial emergencies. This might cover a few monthly oversights with the budget, but what about losing a job, home repairs or something more dire?
Perhaps even more worrying is the fact that 20.95% of those surveyed had less than $100 saved, which is virtually nothing. 45% of Americans have less than $1,000 to their name.
Could this be a reflection of the low incomes many US citizens live on, or a sign that the culture of saving has changed and people are more likely to turn to credit cards, loans and other borrowed money when faced with unexpected financial hiccups? It's probably a combination of many different factors.
"Overall it is the big picture that is most interesting," says Bargain Fox's Harsha Kiran. "Only around 18% of Americans have more than $10,000 in the bank, while over 60% have less than $3,000. 'Less than $100,' was the most answered question by respondents at 20.95%."
Bargain Fox also honed in on the data for gender, age, level of education, household income, and other areas to determine who saves and who doesn't. The results were not surprising. Those who are older, with qualifications and a high household income, on average saved more than those who fall outside of these demographics. Women also saved less than men, suggesting that the traditional male provider role is still in place on paper.
"Our interest was in whether people have genuine financial security and can withstand emergencies without relying on others. Americans simply aren't saving, and the implications of that might not bode well for the future," concluded Kiran.
The full 2016 survey on people's spending behaviour can be found right now on the Bargain Fox website:https://www.bargainfox.co.uk/blog/1-in-3-americans-have-less-than-500-in-savings-to-cover-emergencies