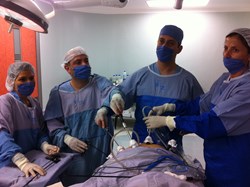 Dr Castaneda and his medical team have developed innovative solutions and affordable price packages to ensure that each patient achieves the best outcome and results.
Jalisco, Guadalajara (PRWEB) November 21, 2013
Some US companies look to medical tourism in Mexico to cut costs, giving employees all-expenses paid trips for outsourced surgeries such as gastric bypass, gastric banding or duodenal switch in Mexico. The trend that started many years ago is unstoppable as more and more Americans discover the important savings and benefits associated with crossing the border of bariatric surgery.
The standards of care in a typical private hospital in Mexico are as good as those in the United States, surgeons are highly experienced and they´re trained in many cases also in the US, but charging up to 50% less on surgery.
Leading bariatric surgeon Dr Jose A. Castaneda is a pioneer in this field, he started his medical tourism services over 6 years ago and he is based in Puerto Vallarta and Guadalajara, two of the most beautiful places in Mexico: "When we started performing weight loss surgery for American and Canadian patients in this area we were almost unknown back then, 6 years later our website GastricBypassMexico.com receives thousands of visitors each month and hundreds of inquiries from patients in the US. We are now in the process of developing partnerships with US companies looking to save money on health care and bariatric surgery specifically", says Dr Castaneda.
Demand for bariatric medical tourism (weight loss surgery abroad) is growing very rapidly and Dr Castaneda and his medical team have developed innovative solutions and affordable price packages to ensure that each patient achieves the best outcome and results, this including not just the treatment of obesity from a surgical perspective, but also ensuring the patient is cared for with professional psychological assessments and appropriate counseling. Developing working relationships with US companies is a natural step in GastricBypassMexico.com's progression over the past few months.
"At this moment we are developing relationships with American and Canadian companies for the treatment of their employees at our private hospital. We understand that medical tourism can be misunderstood if it´s not researched properly, which is why we have now put in place new systems and technology in place that will facilitate a better understanding by patients and companies, of our medical tourism services in Mexico. We welcome US and Canadian patients and companies to contact the medical team for detailed information," confirms Dr Jose A. Castaneda.
The introduction of new technologies, new websites and online channels are part of the overall integrated solution that bariatric surgeons are creating to establish a more efficient platform where companies interested in medical tourism can communicate effectively with weight loss surgeons in Mexico, ensuring patient´s safety whilst also delivering a price tag that is affordable both for the patient and the company that sponsors a portion of the cost of bariatric surgery. "Though, bariatric medical tourism is very popular many obese patients still don´t know which type of surgery would be most adequate to their specific metabolism, needs and long term objectives.
Among the most popular procedures, perhaps the highest demand is gastric bypass in Mexico, followed closely by gastric banding, sleeve gastrectomy and duodenal switch in Mexico," says Dr Castaneda.