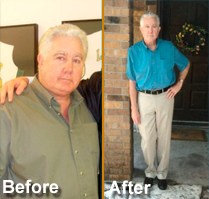 After Gipper's Gastric Bypass procedure, he lost an amazing total of 101 lbs.
Austin, Texas (PRWEB) August 15, 2013
Dr. Nilesh A. Patel of Texas Bariatric Specialists (TBS) announced today that patient, Gipper Nelson, is no longer haunted by a wide range of health problems including severe acid reflux after receiving Gastric Bypass surgery and choosing to abstain from bad habits.
Growing up, Gipper was never drastically overweight. Even though he grew up on nothing but fried foods, weight had never been a problem for him or his family. He stayed active by participating in many sports, such as basketball, football, baseball, and track. He even went to college for a degree in business on an athletic scholarship. It wasn't until after finishing his degree and getting married that he started putting on weight. Gipper still exercised in his free time, but he was consuming more calories than he burned so the pounds started to creep on little by little.
Twenty years later, after a divorce and being diagnosed with bipolar disorder, the weight and health issues really took off. He started to abuse alcohol, smoke a pack of cigarettes a day, and showed other common compulsive behaviors, such as eating when he's not hungry. To add to his concerns, Gipper became borderline diabetic, had high blood pressure, his cholesterol was out of sight, and he developed severe acid reflux. Gipper's acid reflux was so severe that when an episode hit, it would last for several hours, sometimes occurring at 2 in the morning! "I have never been as panicky as when something like that would hit and I'd be out of medication," Gipper recalled.
By that point, Gipper became extremely concerned with the direction his health had gone and would continue to go, so he decided to do something about it. He started by giving up alcohol and cigarettes. "Once I made up my mind to quit, I completely left it behind and life has been much clearer," Gipper said. Then, he started to diet but wasn't making any headway at all. He would skip breakfast and only eat one meal a day, consisting of any types of foods he wanted. When that didn't work, he tried completely starving himself and walking. "Mentally, it was hard on me," Gipper said, "My outlook on life was in the pits." He knew this was no way to live so he called up his primary care doctor in Beeville and told him he'd like to consider Bariatric surgery.
After speaking with his doctor, it was determined that Gipper would definitely fall into the guidelines of Bariatric surgery. The doctor and a couple of his nurses started looking for a surgeon that Gipper would feel comfortable with and that his insurance, Humana, would cover. After several weeks with no response, Gipper decided to call Humana himself and had them recommend some Bariatric surgeons covered by them in the Corpus Christi or San Antonio areas. He was given a list of five names. The first four Bariatric clinics were either out of business or he had trouble getting through the line. On the last call, Gipper reached a secretary that told him they didn't perform Bariatric surgery at their clinic but that there is a doctor next door that does. The secretary repeated the name and phone number, Dr. Nilesh A. Patel of Texas Bariatric Specialists. After speaking with Dr. Patel, it was agreed that he would be Gipper's Bariatric surgeon. "I was lucked into it, basically," Gipper said, "I wouldn't have given up. I really wanted this so I made my own luck."
After Gipper's Gastric Bypass procedure, he lost an amazing total of 101 lbs. He has also eliminated the constant need for antacids and blood pressure pills. Another positive result of Gipper's Bariatric surgery is that he is no longer borderline diabetic and his cholesterol went from over 300 to 162! His activity level has risen allowing him to complete necessary tasks around his home more efficiently and leaving him with more energy and confidence to spend his free time out with family and friends. Gipper's eating habits have also changed. He eats 4 to 6 small meals a day, which are low in fat, high in protein, and full of easy to digest foods, such as cereal. "Nothing is a bed of roses," Gipper states, "You can't quit the program. You have to think about what you are eating and how it is going to affect you. You can't eat a double meat, double cheese hamburger once a day and expect to lose weight. It's a manageable process and I'd do it again in a heartbeat."
About Texas Bariatric Specialists
Founded by Dr. Nilesh A. Patel, MD, a nationally recognized and fellowship-trained bariatric surgeon, Texas Bariatric Specialists (TBS) is a holistic weight loss practice focused on delivering long-term weight loss solutions for patients. Dr. Patel specializes in bariatric surgery procedures including Lap Band, Gastric Bypass, Gastric Sleeve, Gastric Band, and the revision of failed weight loss surgery, which have resulted in over 2,500 surgeries exceeding the national average of successful weight loss management. With a commitment to surgical expertise, compassionate care and exemplary preoperative and postsurgical consultative services, Dr. Patel and his staff at Texas Bariatric Specialists ensure successful weight loss management for their patients through long-term relationships to support good health. Offices are located across major cities throughout Texas including San Antonio, Austin, Corpus Christi, New Braunfels, Seguin, Boerne, Kileen, Temple, Del Rio and Laredo. For more information, or to book a free informational seminar, please visit http://www.texasbariatricspecialists.com.