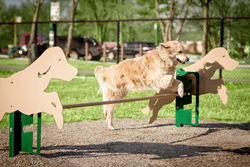 Benefits of off-leash dog parks involve not only the dog owners, but also the dogs and their communities.
Chattanooga, TN (PRWEB) March 28, 2014
In a recent article featured in Recreation Management, UltraSite was honored to contribute some of its research and expertise regarding dog park design and equipment. The article focuses on the fact that most dog park equipment are not designed to draw in man's best friend, but instead these vibrant, fun, park elements are carefully designed to bring in the holder of the leash!
"In order to have a successful dog park, this is necessary," Tom O'Rourke, Executive Director of the Charleston County Park & Recreation Commission in South Carolina confirms. "It isn't about the dogs; it's about the customers. It's about people socializing and interacting."
There is an array of studies, reports, proposals, and articles regarding the benefits of dog parks; benefits of off-leash dog parks involve not only the dog owners but, the dogs and their communities. At the individual level, being outdoors in a dog park has a diversity of therapeutic, physiological, psychosocial, and psychological benefits. As emerging research suggests, pet ownership impacts the individual but also there are "collective benefits that accrue to communities through the presence of pets, benefits that extend beyond pet owners themselves." (Wood et al., 2007).
"A dog park has the potential to become so much more than just a place to exercise your pet, for many pet owners it is a place to meet new friends, relax and enjoy the outdoors," said Stephanie Devine, Vice President of sales and marketing for Recreation Brands (a division of PlayCore).
In order to have a successful dog park, you must bring people in; in order to bring people in, you must catch their eye; and in order to keep people coming to the dog park, you must incorporate design features for their comfort, while maintaining creative programming to keep their furry friends active.
UltraSite assists communities all over the US with dog park design, to help ensure the park is used through best practices and amenities that make it a fun, comfortable place to be! Communities wishing to learn more about creating their own dog park can contact us for a personal design based on their, needs, budget, and goals.
PlayCore helps build stronger communities around the world by advancing play through research, programs, and partnerships. We infuse this learning into our complete family of brands.
We combine best in class planning and education programs with the most comprehensive array of recreation products available to create solutions that match the unique needs of each community we serve. To learn more, log on to http://www.playcore.com.