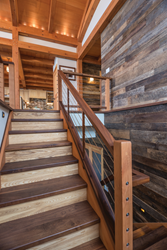 As long as a barn is in good condition, it should continue to be a barn. We've found solutions that offer the same weathered surfaces but are more plentiful and sustainable alternatives
Farmington, NY (PRWEB) February 03, 2017
A leader in the reclaimed wood industry, Pioneer Millworks has experienced a marked demand for original reclaimed barn siding, also known as barn wood. The company recognizes this demand has impacted farms, particularly in the Northeast where historic wooden barns were once a common part of the landscape.
"We realize that healthy barns are being deconstructed – or in the worst cases, siding is being stolen off barns that are in use – all due to the high demand for barn siding in current décor," explains Jennifer Young, General Manager of Pioneer Millworks. "We've worked hard to find sustainable and alternative sources to alleviate the specific demand for barn siding."
The result is Pioneer Millworks American Prairie line of reclaimed wood. The company noted that barn wood is broad and dynamic in scope; incorporating wood that is salvaged not just from dilapidated barns, but also agricultural fencing and other structures that have endured the elements, reduces the pressure to take barns down.
"We appreciate and admire the agricultural barns that are an iconic part of our landscape and history. As long as a barn is in good condition, it should continue to be a barn," continues Young. "Over time we've found solutions that offer the same wonderful weathered surfaces as barn wood that are more plentiful and sustainable alternatives."
The American Prairie line is offered in four grades: Brown Board, Taphouse, Weathered Grey, and Painted. The grades offer naturally patinated planks in earth tones ranging from greys and silvers to browns and tans, or original painted surfaces including white and red. Planks are popular for vertical or horizontal installations in commercial and residential projects for both interior and exterior applications.
Additionally, Pioneer Millworks is doing their part to help out as members of several barn preservation groups including Restore Oregon – Heritage barns, New York State Barn Coalition, and the National Barn Alliance.
Pioneer Millworks is the leader in the reclaimed wood industry. To date, they've rescued nearly 26 million board feet of old wood from rot and landfills, giving it new life as flooring, paneling, millwork, cabinetry, and more. Pioneer Millworks follows the triple bottom line of People, Planet, and Profit. All wood is manufactured in a way that's healthy for customers, employees, and the environment. Pioneer Millworks is FSC-certified and Green America approved. All of their products are LEED point eligible.