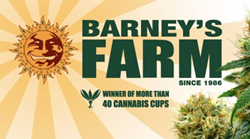 Barney's New Medical Seeds Available to Patients
Amsterdam (PRWEB) November 26, 2014
Cannabis plant is well-known for its medicinal and healing properties that have been recorded in history that dates back to thousands of years ago, and Barney's farm now brings in more valuable medical cannabis seed options to the patients.
Click here to take a look at the new medical seeds available at Barney's.
Medical marijuana is mainly used to alleviate nausea and vomiting that is common to patients with AIDS and Cancer, pain and muscle spasms and when it comes to disorders of the neurological system like multiple sclerosis, epilepsy, and movement problems. Barney's Farm has created some of the world's most potent medical marijuana seed strains out of which, two such new strains, namely CBD Blue Shark and CBD Critical Cure that are now the company's new entrants in this category.
CBD Blue Shark strain has a total content of 6.5% of THC and CBD levels respectively; it has amazing levels of Anti-Oxidants that have significantly higher Anti-Inflammatory properties. With its sweet-savory flavors that are clubbed with the unique fragrance of pungent cheese and berries, and packed with the citrus tang.
CBD Critical Cure is a genetic cross between Barney's indigenous strain Critical Kush, and pure CBD mother plant, and it offers exceptionally high levels of CBD levels (8%) and a tinge of sweetness to it. With a slightly lower content of THC levels (5.5%), this is a great strain that can cure pain fast and it's also handy for healing purposes.
To know the latest offerings from Barney's visit https://barneysfarmshop.com
About Barney's Farm
Barney's has won international awards and accolades including 40 Cannabis Cups. Much of the success is owed to Derry, who is the co-founder of the farm, whose journey started 35 years ago when he first started to collect heirloom and old land-race genetic strains across the world. It is only through his persistence, drive and passion that the company is able to excel in producing the finest and rarest of the hybrids in the world possible.
Barney's Farm has been recognized as the world leader in producing the best and the rarest of the cannabis seeds and also the biggest distributor of Marijuana Seeds in the world. The company calls its seeds sacred and cultivated especially for its medical purposes.
For further info visit https://barneysfarmshop.com