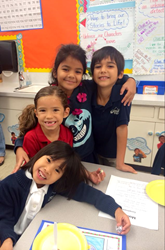 Today was all about the students taking pride in their hard work.
Arcadia, CA (PRWEB) November 05, 2015
"Writing isn't a talent; it's a skill" says Rand Laird of La Salle High School who has many responsibilities at the Pasadena, CA high school including teaching Honors English Freshman year. The teacher pushes his students to both develop skills and lose bad habits to shine as excellent writers. Never writing about literature in the past tense and teaching the use of specific word choice (avoiding using the word "thing" in formal composition, for example) are just a few of Laird's tenants which, if violated, will result in a significant mark down.
La Salle High School has a number of Barnhart graduates from the Arcadia-based K-8 school in its current freshman class, and some of them tested into Laird's Honors English class. Laird prides himself on stretching his students to develop into better writers and then will meet his students again, typically for a class in AP, Honors or English IV their senior year. Critical thought and articulation thereof are the central point of the four-year, scaffolded La Salle High School English curriculum.
Barnhart School utilizes Lucy Calkins' Writer's Workshop and starts teaching important writing skills at an early age. Today at Barnhart School the first grade Writers Workshop students taught by first-grade teachers, Ashley Perez and Emily Spencer, are participating in a publishing party. Students have focused on discovering and writing about one small moment. They have planned their stories, found the most important part, found internal stories and revised and edited with a writing buddy. The culmination of their work results is a publishing party where parents, grandparents and friends of the first grade classroom hear the students read their stories aloud. Listeners then write a compliment and each student receives several compliments about their writing by the end of the party.
"Today was all about the students taking pride in their hard work." said Perez. "It builds their confidence as young writers."
"The kids' writing is a highlight of the year for our class visitors and the students really enjoy reading their stories out loud to their 'fans,'" Spencer added.
"It is my hope that students will find English to be their greatest academic challenge through their time at La Salle and hopefully their biggest blessing when they graduate," Laird added.
Located in Arcadia, California, Barnhart offers a private K-8 education. Distinguishing programs of Barnhart include Spanish at all grade levels, daily physical education, the Virtues Project™ character development program, the aforementioned creative writing for kids program with the Lucy Calkins' Writer's Workshop, a choral group, and an on-site harvest garden. The school has an early literacy emphasis, a 1:1 ratio of technology and an average 12:1 student-teacher ratio. Barnhart is accredited by the California Association of Independent Schools and Western Association of Schools and Colleges. Established in 1959 by Dr. Ethel Barnhart, Barnhart is a non-profit school affiliated with the non-denominational Santa Anita Church. Visit barnhartschool.org for further information or to inquire about a tour.
La Salle High School, located in Pasadena, CA, is dedicated to excellent student performance in academics, arts and athletics. Of particular importance is La Salle High School's call to carry out the mission established by its founder, Saint John Baptist De La Salle, "to give a human and Christian education to the young, especially the poor." Lancer athletics, student life, visual and performing arts, honors and service societies, student clubs and organizations, and student television broadcasts and publications provide a healthy and warm community atmosphere for all La Salle students.
Writing Working is an approach of Lucy Calkins and educators involved in the Reading and Writing Project at Columbia University in New York City, New York.
More information about Lucy Calkins' Writing Workshop can be found at: https://en.wikipedia.org/wiki/Writing_Workshop or http://www.unitsofstudy.com/toc_lc_ao.asp