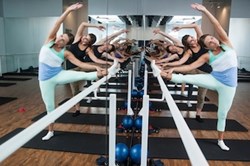 Most clients see and feel results in as few as 10 fitness classes.
San Antonio, TX (PRWEB) September 17, 2013
Smart Barre is excited to announce their 1 year anniversary at the Alamo Heights location. In honor of the anniversary, they will be hosting an event at the Alamo Heights location on September 19, at 7:00 p.m.
The first guests to arrive will receive complimentary swag bags. There will also be giveaways, Crave cocktails and Bird Bakery treats.
Please RSVP to: sanantonio(at)smartbarrebody(dot)com.
Smart Barre is the premiere fitness studio for women in San Antonio, that infuses techniques from ballet, Pilates and yoga. The studio practices concentrated movements that function as deep sculpting tools to strengthen and lengthen muscles. The end result produces lean body toning for its clientele.
As a total body workout, this class incorporates principles of ballet, Pilates and yoga to target body areas in which women struggle - the core, hips, thighs, seat and arms.
A traditional ballet barre is used to help maintain balance and provide resistance; however, participants will not need a tutu in this class to achieve the long, lean look of a dancer. In addition to the barre, light weights, a playground ball, and a cushy mat are used. All-in-all the class is an efficient, upbeat workout, in a "smart" use of time.
Most clients see and feel results in as few as 10 fitness classes. Smart Barre's technique of concentrated muscle fatigue followed by focused stretching maximizes efforts and helps the body's system work together in a strong, powerful way. Instructors are always happy to discuss projected goals and help to achieve them in a healthy, balanced manner.
Sign up for a class.
New Location Now Open.
Smart Barre Alon Town Centre
10001 NW Military HWY #3103
San Antonio, TX 78231
For more information, and to schedule a class time, please visit http://www.smartbarrebodysatx.com.
About the company:
Smart Barre classes are both strength and cardio based; clients will not breathe with difficulty during class. A significant portion of the class focuses on legs and glutes, which are the biggest fat burners in the body. Prospective clientele will quickly see and feel those inches dropping even without cardio.
Classes are designed for individuals of any age wanting to achieve strength and flexibility; they do not allow clients under the age of 16. Smart Barre specializes in women's fitness, and for the privacy of our clients, the boutique style environment is for women only. These practices were created in Fort Worth and have quickly spread throughout North America. For more information, please visit their website.