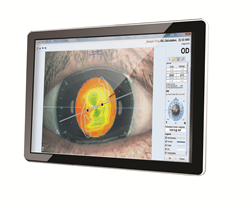 With the introduction of the Barrett Universal II formula, users will get a highly-sophisticated tool to aid their planning with toric intervention.
Harlow, Essex (PRWEB UK) 9 January 2015
Haag-Streit UK (HS-UK), the leading manufacturer and distributor of gold-standard optometry and ophthalmic equipment, is pleased to announce that the Barratt Universal II formula and Toric Calculator are now available for the LENSTAR LS 900 Biometer.
The LENSTAR provides highly-accurate laser optic measurements for every section of the eye, from the cornea to the retina and is the first optical biometer on the market that can measure the thickness of the crystalline lens. The biometer features dual zone keratometry or optional T-Cone topography for precise astigmatism and axis measurement, as well as an on-board toric IOL calculator for sophisticated operation planning.
The new Barrett Universal II formula and Toric Calculator included in EyeSuite IOL and the T-Cone Toric platform respectively, provide the user with one of the best toric IOL prediction methods available on the market. The toric calculator is based on the proven Universal II formula and features dynamic calculation of the lens position for cylinder power transformation to the corneal plane, as well as consideration of the anterior and the posterior corneal curvature for cylinder power and axis calculation.
Sam Laidlaw, HS-UK Product Manager, said, "With the introduction of the Barrett Universal II formula, users will get a highly-sophisticated tool to aid their planning with toric intervention. Users will not only have one of the most advanced calculation methods to hand, but are also able to plan the complete procedure with high-resolution images of their patient's eye from LENSTAR."
For more information on LENSTAR or the Barrett Universal II formula, please call Haag-Streit UK on (01279) 883807, or email lenstar(at)haag-streit-uk(dot)com.
###
For news media enquiries, please contact:
Emily Byham
Marketing Co-ordinator
Email: ebyham(at)haag-streit-uk(dot)com
DDI: 01279 456260
Mobile: 07900 828709
About Haag-Streit UK
Haag-Streit UK sells a complete line of optometry and ophthalmic equipment and has distributorships for some leading brands, such as; Haag-Streit International, Ellex and CenterVue and Haag-Streit Surgical (formerly Möller-Wedel).
A former division of Clement Clarke International Limited, Haag-Streit UK has evolved since 1917 from a dispensing optician with one branch in London, to a manufacturing company which has designed and manufactured products such as the Perkins tonometer and Synoptophore.
These brands are marketed directly within the UK and through a network of distribution partners in more than 60 countries.
In 1989 Clement Clarke became part of the Swiss-based Haag-Streit Group and in 2001 began trading under the name Haag-Streit UK.
Haag-Streit UK promotes prevention, early detection, careful monitoring and effective treatment of retinal disease, glaucoma, corneal disorders, ocular motility and visual defects.
The organisation is dedicated to providing tailored solutions through the integration of information technology, leading brand ophthalmic instruments and unparalleled customer care. It focuses on the individual requirements of both the professional and the patient.
For additional information about Haag-Streit UK and its product portfolio, please visit http://www.haagstreituk.com.