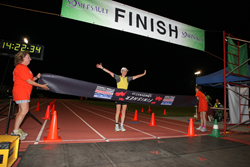 Barrie, Ontario (PRWEB) March 25, 2014
Marilyn Preece had a goal of completing an Ironman triathlon: 3.8 km swim; 180 km bike; 42.2 km run. Marilyn wanted to do this at the age of 60.
Although she had completed several triathlons prior, she had never attempted these remarkable distances as in the Ironman triathlon. To help her prepare for her race, Marilyn decided to hire a personal trainer in Barrie. After looking through many options, Marilyn decided to hire Andre Gordon an in-home personal trainer in Barrie with Fitness on the Go as Andre has experience with triathlons himself.
Marilyn started training for her goal 6 months prior to the event. She would train with Andre twice a week and do a few more workouts on her own. After the initial assessment Andre stated: "My major inputs were putting together a core/strength/flexibility program to compliment her strengths and encourage her to increase cycling cadence so that she would be fresher for the run. We noticed that she had a tendency to use a hard gear resulting in a low cadence, which used a lot of fast-twitch muscles."
Marilyn persisted and trained hard with Andre and on her own. "The hardest part of this kind of grueling training is not getting injured," states Gordon. "Most people can push themselves, but it is very important to know where to draw the line. Listening to your body and having another pair of eyes can certainly help." Marilyn avoided injuries, which would have prevented her from training or even competing.
Marilyn finished the Ironman triathlon in 14 hours and 20 minutes, a very commendable time. We asked Marylin what she would tell others about reaching their goals: "Always start with a manageable goal; set targets; reward yourself when you meet a goal and remember if it was easy, everyone would do it!"
Marilyn thanks her Barrie personal trainer, Andre Gordon, for all of his work, encouragement and positivity! And we congratulate Marilyn for reaching her goals!
About Fitness on the Go
Fitness On The Go Personal Training is an in home personal training company dedicated to helping people reach their fitness goals. Fitness on the Go helps clients enjoy a healthier lifestyle by maintaining or increasing their activity levels safely and efficiently. Fitness on the Go keeps client's motivation levels high and on track by making sure they complete a safe and effective fitness workout in the privacy of your own home.