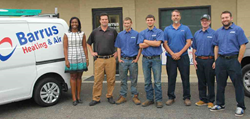 Barrus Heating and Air Brings the Newest Technology to Summerville Clients
Summerville, SC (PRWEB) April 14, 2017
With an objective of offering more efficient and energy-saving air conditioning and heating solutions in Charleston and Summerville, Barrus Heating and Air relies on the latest technologies of ductless systems and temperature automation control. According to the spokesperson of the company, the newest technology helps improving the efficiency of the air-conditioning and heating systems and also saves energy.
The company focuses on energy efficiency and offers services like computerized designing of ducts and testing of the duct leakage, if any. Moreover, they prefer installing ductless systems that are more energy efficient. They carry out the heat load calculations of systems and install systems that can best suit a client's requirements. They offer complete services related to duct repair and replacement and offer special pricing and competitive financing on replacement and upgrades to existing systems.
According to the spokesperson, the ductless systems are energy efficient and make less noise. At Barrus Heating and Air, they offer both traditional and complete ductless system for the whole house, helping homeowners save a significant energy cost every month. The company has a team of trained technicians who have years of experience in installing air-conditioning and heating systems in the low country of South Carolina. Moreover, they offer a quick installation of ductless systems and avoid energy losses in the attic and crawl spaces.
The company offers prompt heating and air conditioning repair for all makes and models. Barrus is currently offering rebates up to $1,100.00 dollars and 0% financing, based on credit approval, to help clients take advantage of more advanced and energy efficient solutions by replacing their old and outdated HVAC equipment. They also specialize in the installation of solar heat pumps that are excellent energy savers. The company constantly invests in new technologies and trains its staff to master the innovative air and heating systems introduced in the market. They also offer preventative maintenance and emergency services for low country residents.
To know more about their air conditioning and heating services and the types of energy efficient solutions they provide, one can visit their website http://www.barrusheatingandair.com.
About Barrus Heating and Air
Barrus Heating and Air offers complete air conditioning and heating solutions for the residents of Charleston and Summerville SC. They offer repair and maintenance services, new installation, emergency and preventive services for air conditioners and heating systems of all makes and models. The company has a team of expert technicians who offer reliable services for clients. They are dedicated to installing energy efficient solutions that can save energy.
For Media Enquiry –
Contact Person: Bill Barrus
Telephone: 843-871-1030
Email: barrushvac(at)onQvo.com
Website: http://www.barrusheatingandair.com