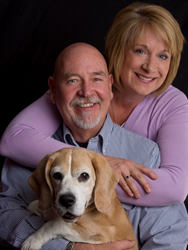 Together, we know the ins and outs of the real estate market in Boulder, a town we consider one of the most beautiful in the country.
Boulder, CO (PRWEB) August 11, 2015
Barry "Bear" and Liz Friedlander, of RE/MAX of Boulder, are revered in the local real estate arena as trusted and prolific sellers, due in no small part to a combined 50 years of real estate experience. Barry and Liz are also RE/MAX of Boulder's only husband and wife broker couple, and together have qualified for numerous certifications.
"Working alongside my wife has been an honor for me," said Barry. "Together, we know the ins and outs of the real estate market in Boulder, a town we consider one of the most beautiful in the country."
Barry and Liz, who have been a couple for 17 years, are also involved with the Boulder Area Realtors Association. Barry, aka "Bear," has been one of the most recognized names in Boulder County real estate. Not only is he a former president of the Association, but both have volunteered and served as a directors over the years.
"Bear has even qualified for a couple of RE/MAX's highest honors, including RE/MAX's esteemed Hall of Fame and Lifetime Achievement Standards," said Liz. "He exemplifies above-the-crowd service and performance."
But it's not just about real estate for this dynamic duo. Away from the office, Liz is a true dog enthusiast. She is internationally known as a Beagle breeder, handler, and a AKC licensed -judge. In fact, Liz was honored to judge the National Beagle Club of America Specialty in 2013. Bear is a motorcycle and sports car enthusiast. He is also a pilot and has even owned his own plane and hot air balloon, "just like the RE/MAX balloon," he said.
Barry and Liz handle homes of all price ranges, and work mostly in residential and investment real estate. The Friedlander's are known not only for their personal approach but also known for their dedication to their clients. In fact, in appreciation of many of their clients, they personally sponsored a client and friends party at their RE/MAX of Boulder's Pearl Street office in conjunction with Boulder's Bands on the Bricks, where the legendary Hazel Miller performed, and was later interviewed at their event that evening.
About Barry and Liz Friedlander, RE/MAX of Boulder, Inc.
Barry and Liz Friedlander are Certified Distressed Property Experts (CDPE), Certified Residential Specialist (CRS), Accredited Buyer Representatives (ABR), and Eco-Brokers. RE/MAX of Boulder is nationally recognized as one of the most successful real estate firms in the business and was named the No. 1 RE/MAX office in the country from 2007 to 2012. For more information, please call (303) 416-5939, or visit the office at 2425 Canyon Blvd., suite 110, Boulder, CO 80302.
About NALA™
The NALA offers local business owners new online advertising & small business marketing tools, great business benefits, education and money-saving programs, as well as a charity program.
Media Contact:
Tiffani Tendell
news(at)thenala.com
805.650.6121, ext. 361