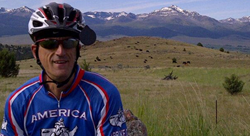 "I ride for the many people with hemophilia around the world who can't."
Georgetown, MA (PRWEB) July 15, 2016
Cyclist Barry Haarde will undertake his fifth and longest cross-country bike tour, "Wheels for the World 2016: Saving Lives by the Mile," on Sunday, July 17 from Everett, Washington.
Since 2012 Barry has ridden over 14,000 miles through 27 states and Canada to raise more than $150,000 for his favorite charity, Save One Life. Save One Life financially supports 1,200 impoverished children and adults with hemophilia in 13 developing countries. Hemophilia is a rare genetic disorder that prevents blood from forming an effective clot. Occurring in one out of 5,000 male births, untreated hemophilia can cause prolonged internal bleeding, painful joint deformities, crippling and even death.
For many years Barry hid his HIV-positive status, which he received through a contaminated blood product for his hemophilia. After surviving a grueling multi-year treatment to cure his hepatitis in his early forties, Barry decided to make his condition public. Since then Barry has been symbol of courage, determination and endurance for people with hemophilia around the world.
"I've lived for over thirty years with HIV and dealt with hepatitis C—from which I'd developed liver cirrhosis—so I have a very strong sense of gratitude and appreciation," says Barry. "Not only have I survived, I am able to maintain the physical health and conditioning required to ride a bike across America."
Barry is an outstanding example of his favorite motto, attributed to musician Bob Marley, "You don't know how strong you are until being strong is the only choice you have."
Barry will ride 5,000 miles through 20 states in 60 days. His route will take him through northern states— including Montana, South Dakota, Minnesota and Michigan. His route picks back up in New Hampshire on August 13 and he'll follow the eastern seaboard to dip his wheel in the Caribbean Sea in Key West, Florida on September 16.
Barry aims to raise $50,000 to help Save One Life grow its sponsorship, scholarship, micro-enterprise grant and hemophilia camp programs. To learn more about Barry and his Wheels for the World campaign, visit http://www.SaveOneLife.net.
Baxalta (now part of Shire) is the gold sponsor of "Wheels for the World 2016: Saving Lives by the Mile." Biogen, The Alliance Pharmacy and George King Bio-Medical are also sponsoring this event.