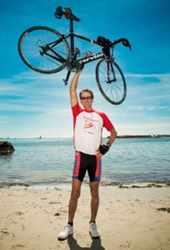 I ride for the many people with hemophilia around the world who can't.
Georgetown, MA (PRWEB) August 19, 2016
Barry Haarde is cycling more than 2,000 miles down the eastern seaboard of the United States to complete a 5,000-mile tour in support of his favorite charity, Save One Life.
Save One Life financially assists 1,300 impoverished children and adults with hemophilia in 13 developing countries. Hemophilia is a rare genetic disorder that prevents blood from forming an effective clot. Occurring in one out of 5,000 male births, untreated hemophilia can cause prolonged internal bleeding, painful joint deformities, crippling and even death.
Barry also has hemophilia. He contracted HIV and hepatitis C from contaminated blood products to treat his condition when he was young. For many years Barry hid his HIV-positive status. After surviving a grueling multi-year treatment to cure his hepatitis in his early forties, Barry decided to make his condition public. Since then Barry has been a symbol of courage, determination and endurance for people with hemophilia around the world.
"I've lived for over thirty years with HIV and dealt with hepatitis C—from which I had developed liver cirrhosis—so I have a very strong sense of gratitude and appreciation," says Barry. "Not only have I survived, I am able to maintain the physical health and conditioning required to ride a bike across America."
Barry is an outstanding example of his favorite motto, attributed to musician Bob Marley, "You don't know how strong you are until being strong is the only choice you have."
Since his first historic tour in 2012, when Barry became the first person with hemophilia and HIV to cycle across America, Barry has logged over 14,000 miles and raised more than $150,000 for Save One Life.
Barry began this year's tour on July 17 in Everett, Washington, cycling his first 2,780 miles across the northern states to finish in Midland, Michigan. He picked up again in Maine on August 14 and will travel through eleven states and the District of Columbia to end in Key West, Florida on September 16.
Barry has almost met his 2016 fundraising goal of $50,000 to help Save One Life grow its sponsorship, scholarship, micro-enterprise grant and hemophilia camp programs. To learn more about Barry and the cities he will visit, or to donate to his Wheels for the World campaign, contact Martha@SaveOneLife.net.
Baxalta (now part of Shire) is the gold sponsor of "Wheels for the World 2016: Saving Lives by the Mile." Biogen, The Alliance Pharmacy, George King Bio-Medical, Hemophilia of Indiana and the Lone Star Chapter of the National Hemophilia Foundation are also sponsoring this event.