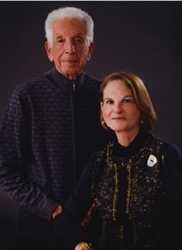 The Basch's continued investment in the future of Ringling College speaks volumes to their role as visionary philanthropists, and to the importance of art and design in our lives and to our world.
Sarasota, FL (PRWEB) November 04, 2014
Ringling College of Art and Design today announced plans to build an approximately 20,000 square foot Visual Arts Center thanks to a $3 million gift by Ringling College Board of Trustee Dr. Richard Basch and his wife Barbara Basch, who is a Sarasota Museum of Art/SMOA Board Member.
The Basch's leadership gift to Ringling College is to be used to construct and equip a new Visual Arts Center on the College campus. The facility is planned to open by December 31, 2016. The new Visual Arts Center will be named for Richard and Barbara. The focus of the facility will be fine arts, including the study of sculpture, glass, wood, and clay, and will include exhibition and gallery space as well as the possibility of studios for studies in fiber, jewelry, and metal. The glass facilities will have the capability of both hot glass casting and cold working.
The new facility will have a tremendous impact on teaching and learning at the College, according to Jeff Bellantoni, Ringling vice president for academic affairs: "The art and design programs at Ringling College are grounded in an iterative, 'thinking through making' process that balances conceptual development, practical skills and complex technical preparation. The new Visual Arts Center will provide an environment for our students to explore the unique physical qualities of glass, clay, metal and wood through the creation of sculptural and functional objects. The ability to use materials effectively to express ideas is a critical foundation for all visual art disciplines, and this facility will contribute to the growth and nurturing of young artists and designers for many years to come."
The Basch's have a long-standing connection to Ringling College. It began with their interest in the Sarasota Museum of Art/ SMOA where they served as Board Members beginning in 2003. In this capacity, they contributed a gift well into the seven figures for capital funds to be used for the renovation of the historic Sarasota High School, future home of SMOA.
Richard and Barbara then became interested in Ringling College's academic program, especially its fine arts program and the students attending the College. In 2008 they made a second transformational gift to the College, pledging their world-class collection of approximately 270 contemporary, glass art objects by world-renowned artists. This gift was valued at more than $5.5 million.
"We are extremely grateful for – and humbled by – the Basch's tremendous faith and generosity in Ringling College of Art and Design. They initially connected to Ringling through our Sarasota Museum of Art/SMOA. They quickly became involved with the College as a whole and made an extraordinarily significant glass art gift to the College and the establishment of the Basch Gallery in our Academic Center," explained College President Dr. Larry R. Thompson. "They have such a generous philanthropic spirit and an incredible passion for the arts, specifically the art of glass. Most impressive is their motivation for these gifts, which is to provide our students a broader range of traditional media for artistic expression and experimentation. This past year they sponsored a fine arts elective on glassmaking, which students raved about. It is in this spirit, we believe the Basch's gift will help reawaken and reestablish Ringling College's prominence in the tradition of fine arts as a foundation for every program of study we offer today."
In 2008, the College established the Basch Gallery in the Ringling College Academic Center. Each year the Basch's exhibit a portion of their collection to the public. Their leadership gift to create the new Visual Arts Center continues their incredible legacy as the largest individual donors in the college's 83-year old history.
"Our original intent was to help create a new focus on the fine arts, most specifically to offer programs in glass arts to the Ringling students," explained Barbara Basch. "When I spoke to my husband Richard about my vision, our idea quickly expanded to include a facility to explore both new fine arts media as well as to provide the space for growth in these disciplines and experimentation in new studio experiences," she commented. "We are confident this facility will help attract more students interested in the Fine Arts to enroll in Ringling College, while providing a variety of new classes and programs for those in all majors, as well as to give new opportunities for community and continuing education in the areas of glass, wood, ceramics, and more."
Ringling College's Jeff Schwartz, interim department head for Fine Arts, said his faculty is thrilled and honored to have received such a generous gift from the Basch's and he believes the facility will attract more top-name talent to Sarasota. "Our Fine Art graduates have a legacy of great achievements – they're admitted to top-tier graduate programs, gain national and international gallery representation, and have thriving careers in a wide variety of art related fields. The Basch's gift to fund the addition of this state-of-the-art facility will allow us to grow our Fine Arts program, attract world class students, and secure Ringling's role in an ever-changing landscape of studio art programs," said Schwartz.
Dr. Basch, a retired radiologist and member of the College's Board of Trustees, explains their decision: "The more we learned about Ringling College, the more enthralled we became with it. What (Ringling President) Larry Thompson has accomplished in his 15 years here is nothing short of outstanding. Ringling is now one of the top three colleges of its kind in the nation—and it's right here in Sarasota! Barbara and I are proud to be a part of that."
"The Basch's continued investment in the future of Ringling College speaks volumes to their role as visionary philanthropists, and to the importance of art and design in our lives and to our world. This gift will enable us to continue to offer the finest educational facilities to our students for years to come," stated Dr. Thompson. "We are simply in awe of their inspirational leadership and support."
About Ringling College of Art and Design
Ringling College of Art and Design is a private, not-for-profit, fully accredited college offering the Bachelors of Fine Arts degree the following disciplines: Advertising Design, Computer Animation, Film, Fine Arts, Game Art, Graphic Design, Illustration, Interior Design, Motion Design, Photography & Imaging, and a Bachelor of Arts degree in the Business of Art & Design. Located on Florida's Gulf Coast, the picturesque 48-acre campus enrolls nearly 1,300 students from 44 states and more than 50 countries.