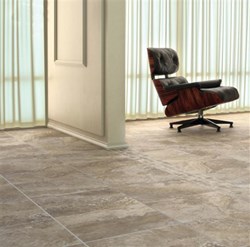 Flooring made of organic materials is a big no-no for a basement at risk of flooding, including hardwood, carpet, and laminate, which are all susceptible to moisture.
(PRWEB) July 19, 2013
HomeThangs.com – the Online Home Improvement Store has made their goal to deliver the right product to the consumer. With that in mind, shopping and home design tips, as well as special product selections are being introduced.
During the summer storm season, flooding is more an eventuality than a possibility for some. But the design choices made in flood prone areas like the basement can big difference in how much damage is done, and how involved the clean-up, recovery, and repair will be. HomeThangs.com has introduced a simple guide to the best flooring options to minimize damage in a flood-prone finished basement.
Sealed, Painted, Or Stained Concrete
The least expensive (and most effective) option is to leave the concrete foundation more or less as it is. After all, if a bare concrete floor gets wet, there isn't anything for water to get trapped under, and there isn't anything to mold or mildew – the floor can't get ruined, and it won't ever have to be replaced. For a decorative look in a finished basement, paint, concrete stains, and epoxies add color and can even mimic the look of stone.
Vinyl Flooring
Any type of flooring or underlayment made out of an organic material is a big no-no for a basement at risk for flooding. This includes not only the obvious ones – hardwood and carpet – but also common alternatives like laminate, which are made out of plywood and are ultimately just as susceptible to moisture. Even minor flooding can mean these materials need to be replaced entirely. Vinyl flooring, on the other hand, is made entirely of synthetic materials, and other than concrete, it's one of the materials that stands up best to moisture. Vinyl flooring can be made to look like wood or ceramic or stone tile, and comes in a variety of installations that are fairly DIY friendly.
Ceramic Tile
Ceramic tile is another excellent choice for a basement with water problems – after all, it's the same material used to manage water in the bathroom. Ceramic tile can be a little more expensive and are much less DIY friendly, but is both beautiful and versatile, available in a wide variety of shapes, sizes, and colors. Some manufacturers even offer ceramic tile printed to look like stone or wood, which can mimic these materials in an area where the real thing wouldn't hold up well.
Rubber Flooring
Finally, rubber flooring is a very forgiving form of basement flooring. Unlike carpet, it's made of materials that won't mold or mildew when wet, and when applied loosely with removable adhesive, it can be removed entirely and taken outside to dry in the event of a flood. Rubber flooring can either be purchased in sheets (which offer slightly better water protection, but can be cumbersome and heavy to roll up and move) or in puzzle piece-like squares that snap together. This method is a little less effective than some of the other ones listed here, but it's also the only one that offers any kind of underfoot padding, so other than a very large area rug, it's the next closest thing to carpet in a flood-prone basement.
That said, picking out and installing a new floor shouldn't be the first recovery step after a flood. There are all kinds of causes for flooding in a basement – poorly placed gutters, less than ideal grading in the back yard, or any other number of other factors, and it's important to have these addressed first before re-finishing the basement. The nature of the problem might even dictate which option is the best – so be sure to address the underlying problem before tackling the cosmetic one.
For more detail about each of these options, or to see them in action, read the full article here.
HomeThangs.com is not only a home improvement superstore, it also provides expert design tips and a comprehensive shopping guide, taking the ideas from professional interior designers, and offering tips to the consumers on how to pick the products to best suit their needs.