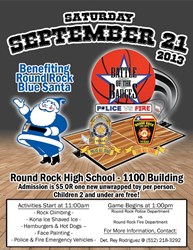 Blue Santa serves more than 1,600 families in need during the holiday season.
Round Rock, Texas (PRWEB) September 18, 2013
Round Rock police and firefighters will compete in a basketball game to raise funds for Round Rock Blue Santa on Saturday, Sept. 21, at Round Rock High School, 300 N. Lake Creek Drive, Building 1100.
Activities start at 11 a.m., with the game beginning at 1 p.m. Admission is $5 or one new, unwrapped toy per person. Children ages 2 and younger are free.
Activities include rock climbing, face painting and exploring police and fire emergency vehicles. There will be hotdogs and hamburgers, along with Kona Ice shaved ice.
For more information, contact Detective Rey Rodriguez at 512.218.3292.
About Operation Blue Santa
Round Rock Operation Blue Santa is a non-profit organization that was established in 1978 by volunteers and employees of the Round Rock Police, Fire, and Parks and Recreation Departments. Since 1978 Operation Blue Santa has delivered toys and food to families in need. In the first year, fewer than twenty families were served. Every year the number of families served has grown. Currently over 1,600 individuals are served. Operation Blue Santa is supported entirely by the community (schools, individuals, and businesses) in the form of donations. Operation Blue Santa's mission is to provide assistance to Round Rock families during Christmas. Together we have seen many lives changed for the better and celebrated the magic of the holiday season.