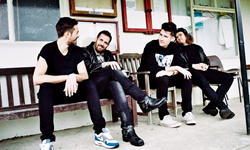 (PRWEB) May 15, 2014
After releasing their first studio album, Bad Blood, in March of 2013, Bastille saw a very rapid rise to fame, particularly from the fourth single on the album "Pompeii." The single has been certified platinum in the U.K. and double platinum in the U.S. Since then, the band has released a deluxe, extended version of the album, which was entitled All This Bad Blood.
As of February, Bastille has already sold over 2 million albums in the U.K. alone. The band is currently working on a second studio album while on tour, which is expected to have just as much success as Bad Blood.
Bastille Fall 2014 Tour tickets go on sale to the general public this Friday morning at 10am EDT. Tickets are expected to see fast given the band's popularity. However, fans looking to secure their seats to one of this fall's hottest events can enter the code BASTILLE at checkout on SuperStarTickets.com and receive 10% off ticket prices. Act fast; this deal will only last for a limited time.
English rock band, Bastille, began a North American tour early on this year, which sold out in New York, Michigan, and Massachusetts almost immediately. The tour was set to close out in early June. However, Bastille just announced on Monday that they will be touring across the United States and Canada this fall as well. The fall 2014 leg of their tour will kick of on October 11th at George Mason University in Virginia and will finish up two weeks later in Rochester, New York.
Bastille 2014 Fall Tour Dates:
Oct. 11 – Fairfax, VA (Patriot Center)
Oct. 13 – Boston, MA (Agganis Arena)
Oct. 14 – Montreal, QC (Bell Centre)
Oct. 15 – Toronto, ON (Air Canada Centre)
Oct. 17 – Cincinnati, OH (U.S. Bank Arena)
Oct. 19 – Saint Paul, MN (The Roy Wilkins Auditorium)
Oct. 21 – Chicago, IL (Aragon Ballroom)
Oct. 23 – Detroit, MI (Masonic Temple Theatre)
Oct. 24 – Rochester, NY (Main Street Armory)
SuperStarTickets is the nation's premiere ticketing source for concerts, theatre and sporting events. We pride ourselves in not only our incredible tickets, but also in our commitment to our customers. With highly skilled representatives there to guide you along the way, we guarantee that your ticket buying experience will be easy and painless. For more information regarding the Bastille Fall 2014 Tour or to find sold-out concert tickets go to SuperStarTickets.com now.