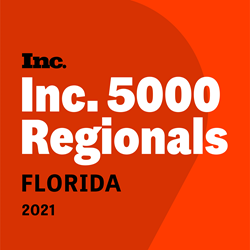 The typical cycle of a bat is to buy one, use it and then put it away in the garage. With Bat Club USA, people could join, use it and switch it.
MIAMI (PRWEB) March 22, 2021
Last week, Inc. magazine announced that Bat Club USA ranked No. 1 among retailers and No. 17 overall in their second annual Inc. 5000 Regionals: Florida list. What began four years ago as an idea has now achieved a two-year revenue growth of 543 percent and has ranked high among the most prestigious and fastest-growing Florida-based private companies.
Bat Club USA offers a subscription service where members have access to brand new, premium baseball and softball equipment at reasonable prices. Thousands of members use the program in all 50 states. "We're thrilled with this ranking. We knew there was a demand for what we were offering, but never envisioned the growth and pace that we've experienced. We are the only ones to offer this model in baseball and softball equipment, and while our focus has primarily been with parents of travel baseball and fastpitch softball players, we are now inspired to expand our demographic and venture into teams," said Oscar Llarena, co-founder and CMO for Bat Club USA.
The business model behind Bat Club USA has been a simple yet winning formula. Members pay a small monthly fee to have access to a brand new bat every 12 months. It doesn't matter if the player breaks or dents the equipment, they could still return and have it replaced for a nominal fee. Players also have a 60-day trial run of the bats. "The typical cycle of a bat is to buy one, use it and then put it away in the garage," said Llarena. "Now people could join, use it and switch it."
"This list proves the power of companies in Florida no matter the industry," says Inc. editor-in-chief Scott Omelianuk. "The impressive revenues and growth rates prove the insight and diligence of CEOs and that these businesses are here to stay."
The companies on this list show stunning rates of growth across all industries in Florida. Between 2017 and 2019, these 250 private companies had an average growth rate of 202 percent and, in 2019 alone, they employed more than 83,000 people and added nearly $11 billion to the Florida economy. Companies based in major metro areas—Miami, Fort Lauderdale, Jacksonville, Tampa, and Orlando—brought in the highest revenue overall.
Complete results of the Inc. 5000 Regionals: Florida, including company profiles and an interactive database that can be sorted by industry, metro area, and other criteria, can be found at https://www.inc.com/inc5000/regionals/florida.
About Bat Club USA
Growing up, Erik Rico and Oscar Llarena, co-founders of Bat Club USA, went through a lot of bats and quickly outgrew their sports equipment. Having played throughout school and even professionally, they knew their passion for the sport was expensive to maintain. They also saw how young players developed an inferiority complex upon seeing other players with better equipment. In 2017, the two came up with a solution and called it Bat Club USA. By offering a low cost membership for the best baseball and softball bats in the market, members could pick their favorite bat, pay monthly, and switch at any time. They also offered bats at full price, but with a few extra benefits. Unlike other retailers, Bat Club USA would provide a 60-day demo period when a AAA membership was added. In addition, 0% financing for up to 12 months was available for those who qualified and met the minimum purchase through Klarna. Headquartered in Miami, FL., Bat Club USA can be found online at https://batclubusa.com/ or by calling 1-888-822-8258. Follow them on social media at @batclubusa. For interviews and/or additional information, contact Oscar Llarena at oscar@batclubusa.com