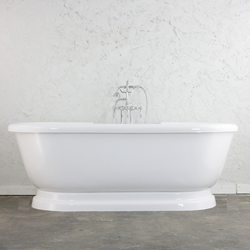 Saint Petersburg, Florida (PRWEB) October 27, 2015
Baths of Distinction, a leading manufactory of air, water, and air plus water jetted freestanding tubs has extended its range to include more modern designs.
Baths of Distinction has over a decade of experience in creating hand crafted acrylic clawfoot and pedestal bath tubs. The Florida- based organization is excited to share their latest product updates.
With the new lines, Baths of Distinction believes it has the most extensive range of freestanding bath tubs, varying in size and shape. The organization feels they have something special and unique for every buyer. Tub sizes range from 54" to 73'', to fit every consumer's need.
Edward Malek, Baths of Distinction General Manager notes that "We offer traditional, transitional, and modern tubs that can all have a Whirlpool type experience."
These Whirlpool tubs are available in either a Clawfoot tub package, Pedestal tub package or Modern tub package.
Malek continues, "In the more modern range, we not only offer air jetted, but water jetted as well. Over the years, we have seen in increase demand for these tubs, so we have created a few more designs to meet expectations of builders, designers, and contractors alike."
Buyers who are interested in viewing the diverse Baths of Distinction Tub models can peruse http://www.bathsofdistinction.com/Whirlpool_Water_Air_Jetted_Clawfoot_Bath_Tubs_s/73.htm
http://www.bathsofdistinction.com/Contemporary_Modern_Freestanding_Bathtubs_s/150.htm
About Baths of Distinction:
Baths of Distinction manufactures high-quality clawfoot and pedestal bath tubs, as well as unique finishes, for homeowners and builders. Baths of Distinction is an industry authority on the subject of vintage-inspired tubs and fixtures with experts who can bring your vision to life, whether it includes modern refinery or Victorian elegance.
To see what Baths of Distinction can do for you, visit http://www.BathsOfDistinction.com