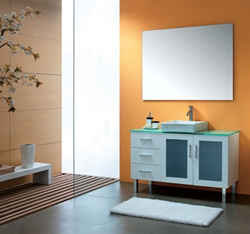 Much like Japanese rock gardens, Asian inspired spa bathrooms are designed to help people reconnect with nature, even when they can't actually be in nature.
(PRWEB) March 03, 2014
HomeThangs.com – the online home improvement store has made their goal to deliver the right product to the consumer. With that in mind, shopping and home design tips, as well as special product selections are being introduced.
Spa style master bathrooms have become hugely popular in recent years and are a great way to make a master bathroom that little bit more indulgent and relaxing. But while many of these bathrooms have a distinctly Nordic influence, lately homeowners have been looking farther east for inspiration. HomeThangs.com has introduced a guide to using the simple, zen-like vibe of
Asian inspired bathrooms to create natural, open spa bathroom with a unique eastern elegance.
It's worth noting upfront that "Asian inspired bathrooms" rarely bear much resemblance to actual bathrooms found in Asia. Asian nations tend to have different bathing practices than in the western world, but many homeowners and designers have adopted eastern design aesthetics and applied them to the western bathroom. The look that's really popular right now is a simple, earthy minimalism that features lots of light wood and very simple, spare, open spaces.
Many spa style bathrooms feature wood elements, but Asian inspired bathrooms focus specifically on bamboo. Bamboo is a great choice for a steamy spa bathroom because it's naturally more resistant to moisture than most hardwoods, and it has a light golden color that will really make the space feel warm, relaxed, and inviting. Lots of bamboo will also help evoke the natural character of the space, making it feel earthy without looking rustic or cabin like the way many hardwoods can.
Asian inspired spa bathrooms are all about creating a sense of natural balance and harmony. Much like Japanese rock gardens, this type of bathroom should feature stone, wood, and water to help those who use the bathroom reconnect with the essence of nature. Water is easy to come by in a bathroom, but don't go the traditional cut-and-polished route for the stone. Instead, look for smooth, uncut river rocks that are large enough to feel nice underfoot. These can either be laid on the floor or walls like regular tile or set loosely in an indentation in the floor around the tub, shower, vanity, or the perimeter of the room, which has a much more natural appearance.
Adding at least one live plant is key. While wood and river rocks will make the space feel natural, nothing really compares to the little visual surprise of having an actual living plant in the bathroom. To get that eastern flair, opt for a small, delicate plant like a cluster of bamboo or a single orchid. Pink orchids are especially trendy right now, and will give a nice bright pop of color to an otherwise neutral decor. This single simple accent will act as an assertive focal point in the space and can stand on its own without any additional ornamentation.
Japanese style shoji screens are also becoming a common feature in spa style bathrooms. Poised on rollers and fitted with translucent panels (either traditional rice paper or frosted glass), shoji screens can easily be moved to open up the bathroom or closed to create privacy, making the bathroom more dynamic, and always allow light to filter through, which keeps the space feeling warm and bright.
What really sets Asian inspired bathrooms apart from other spa styles, though, is how very modern the style can be without feeling cold. Often wood-heavy spa bathrooms can feel very rustic, while highly modern bathrooms have a very industrial look and feel to them. A zen-like, Japanese style offers the best of both worlds, combining natural warmth with elegant minimalism. Asian inspired bathrooms are simple and uncluttered, minimizing ornamentation and combining simple natural elements to create a relaxing, harmonious space.
To see a few Asian inspired spa bathrooms, check out the full article here.
HomeThangs.com is not only a home improvement superstore, it also provides expert design tips and a comprehensive shopping guide, taking the ideas from professional interior designers, and offering tips to the consumers on how to pick the products to best suit their needs.