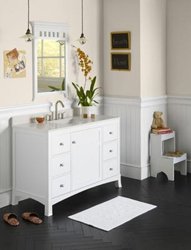 Cape Cod bathroom design combines the elegance of turn of the century vacation cottages with a simple, relaxed seaside vibe that works well in a smaller space.
(PRWEB) September 09, 2013
HomeThangs.com – the Online Home Improvement Store has made their goal to deliver the right product to the consumer. With that in mind, shopping and home design tips as well as special product selections are being introduced.
Cape Cod bathroom design has gained a lot of popularity in recent years, in no small part because it creates a luxurious, elegant atmosphere in a smaller space. Cape Cod style homes are often coastal vacation homes – small cottages and cabins on the beach poised to enjoy a cool ocean breeze on a hot day. The bathrooms reflect the smaller home size, but also the posh style of families that can afford a second home on the Cape. HomeThangs.com has introduced a guide to using this style to get a luxury bathroom that will fit a smaller floor plan.
1. Bathtub
Cape Cod bathroom design is a classic, turn of the century style, and that means first and foremost that they almost always contain a clawfoot tub. These elegant tubs create an instant seaside cottage vibe, and tend to work well with the awkward gabled ceilings that sometimes come with small, cottage style homes.
2. Floor
The most traditional flooring choice in a Cape Cod bathroom design is easily small white hex tile. This is really the go-to choice in almost any cottage style bathroom, and offers an iconic turn-of-the-century vibe. Wood floors are another excellent option, as they can help warm up the space, making it feel more summery and adding some rustic texture. Wood tile flooring offers a weathered wood look that will stand up to a heavily used bathroom.
3. Walls
As with the floor, the most traditional option for the walls of a Cape Cod bathroom design is simple white tile, in this case subway tile, which is a very trendy style right now. Beadboard wainscoting is another traditional option that's simple, clean, easy-to-install and relatively less expensive. For a more rustic, explicitly coastal Cape Cod bathroom design, consider another popular option: using shiplap boards for the walls, either left bare, whitewashed, or painted blue.
4. Sink/Vanity
Many different types of bathroom vanities can work in a Cape Cod style bathroom. Pedestal sinks are one of the most traditional options, with a clean, sleek appearance and compact footprint, but these are light on storage. Wall mounted sinks are also very popular, especially cast iron trough-style sinks that mirror the shape of a clawfoot tub, and smaller sinks are ideal for very small Cape Cod style bathrooms. But for a master suite or frequently used bathroom, Cape Cod bathroom vanities – notably ones with beadboard paneling or shuttered doors – offer a traditional style that will match well with the decor while affording some much-needed storage.
5. Beachy Elements
For a true Cape Cod bathroom design, look for smaller beach themed decor items as well. Seashells are easy to incorporate: in jars, framed as artwork on the wall, displayed on a shelf, or even mixed into a mosaic tile. But don't be afraid to get creative. Jars of sand, unique pieces of driftwood, or even more specifically maritime objects, like life savers or old wooden paddles, can add a salty seaside vibe that will bring the Cape Cod style to the fore.
6. Color
Cape Cod bathroom design is all about creating a relaxed, beachy, seaside vibe. While the exteriors of Cape Cod homes are all about bright, bold red white and blue, soft sandy yellows and gentle sky blues are more prominent in the bathroom. Either of these pastels will give the bathroom an open, airy feel – especially paired with many of the other predominantly white features mentioned here. Blues in particular will help draw the sky and sea into the space, but both will help warm up and give character to a white bathroom, keeping it from looking and feeling too sterile.
For more elements of a Cape Cod bathroom design, or to see some of these elements in action, read the full article here.
HomeThangs.com is not only a home improvement superstore, it also provides expert design tips and a comprehensive shopping guide, taking the ideas from professional interior designers, and offering tips to the consumers on how to pick the products to best suit their needs.