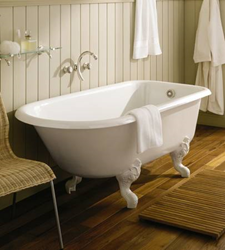 Subway tile is classic and clean, simple and elegant, and the hard, non-porous white surface is incredibly easy to keep clean.
(PRWEB) January 02, 2014
HomeThangs.com – the Online Home Improvement Store has made their goal to deliver the right product to the consumer. With that in mind, shopping and home design tips, as well as special product selections are being introduced.
Bathroom design has largely been trending toward a simpler, more classic cottage style, with homeowners are looking for bathrooms that combine a timeless appearance with a practical, down to earth design. HomeThangs.com has introduced a guide to using a cottage style to get the best of both worlds and create a posh, classy look that fits with a casual contemporary lifestyle.
Pedestal Sinks
Pedestal sinks are the heart and soul of a cottage style bathroom. While they obviously don't come with any built in storage, they're small and sleek, immediately evoking a classic style while offering the simple, streamlined lines that are more akin to modern design. Their slim shape makes them take up less space, which can help make a small bathroom look and feel bigger, and the hard, non-porous porcelain surface is supremely easy to clean.
Built-In Storage
Pedestal sinks don't include much storage on their own, but adding built in furniture or reclaimed antique storage can help enhance the classy, historical of the space. Plus, having furniture in a cottage style bathroom adds a really nice, Victorian touch that will make the bathroom feel homier. Utilizing the walls for storage is also a great way to get a lot of mileage out of a small space, and because pedestal sinks are so lean on their own, it's easy to install a lot of it without crowding the bathroom.
Clawfoot Tubs
There's nothing that says cottage bathroom louder than a clawfoot tub. The style is so classic and iconic that it immediately lends an air of old world sophistication to any bathroom, regardless of the decor. Add gold or brass feet and hardware and the tub is transformed into an instant, self-contained statement piece. Not, perhaps, the most practical, but definitely the easiest way to add a classy, sophisticated touch to a bathroom that won't feel overdone.
Porcelain Tile
White porcelain tile – especially subway tile – is yet another ubiquitous feature of a cottage style bathroom that's found renewed popularity in recent years, and is another great example of this fusion between style and functionality. Subway tile is classic and clean, simple and elegant, and despite the fact that it's very white, the hard, nonporous surface is also incredibly easy to keep clean. A more traditional design would stick with white hex-shaped tile for the floor, creating a white-on-white look that's bright and airy, but a more contemporary style might swap out for wood printed plank style porcelain tile, which offers the relaxed, natural look of wood with the convenience of porcelain.
Walls
Wood wall treatments – like beadboard or other wainscoting or shiplap – are also quite common in a cottage style bathroom, and are often painted white. These are a little less durable than tile, but leave the upper half or third of the wall open, offering an excellent way to add color to a white on white bathroom. A simple coat of any pastel color immediately softens the space, giving it an inviting, natural aspect that can make the whole bathroom feel more relaxed.
Lighting
One of the best ways to dress up a cottage style bathroom is the lighting, because the traditional, antique feel of the space makes it okay to use slightly more decorative fixtures. Petite crystal chandeliers, for example, aren't out of place paired with an elegant clawfoot tub and classic pedestal sink; in fact, the combination gives the whole space a slightly more chic, antique vibe.
To see more beautiful cottage style bathrooms, check out the full article here.
HomeThangs.com is not only a home improvement superstore, it also provides expert design tips and a comprehensive shopping guide, taking the ideas from professional interior designers, and offering tips to the consumers on how to pick the products to best suit their needs.