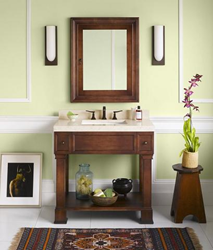 Open bathroom vanities may not offer private cabinet storage, but they're perfect for displaying anything from fresh towels to antique toiletries.
(PRWEB) August 25, 2013
HomeThangs.com – the Online Home Improvement Store has made their goal to deliver the right product to the consumer. With that in mind, shopping and home design tips, as well as special product selections are being introduced.
Discussions about bathroom vanities often revolve around functionality – about size and shape or the quality, quantity, and variety of storage. But as important as it is to have a vanity that's intuitive and easy to use, sometimes it's worth thinking solely about style. On paper, open bathroom vanities sound pretty impractical, with a simple frame construction and almost nothing in the way of storage. But HomeThangs.com has released a guide to why this simple design can be an elegant and effective choice.
Open bathroom vanities have very little storage capacity, and that's assuming they have any at all. They aren't particularly compact, either, which means they aren't an ideal option for a small bathroom, where a petite footprint can make up for a lack of storage. In strictly utilitarian terms, these vanities aren't all that great – but only because their appeal lies primarily in their unique, sleek, and minimalist appearance.
Open bathroom vanities may not have a complex design or lots of creatively hidden storage, but they're utterly elegant in their simplicity. Perfect for a modern design, open bathroom vanities are all slim straight lines and hard angles. And while they don't afford much (if any) hidden storage, the white space in the center of the vanity creates an open, clean space that can give a modern bathroom a nice artistic vibe.
Many open bathroom vanities have a simple shelf at the base, and while these don't offer the privacy of cabinet storage, they make a perfect surface for display. In the case of a smaller vanity, that might mean setting out a single simple statue. With a larger, more traditionally styled open bathroom vanity it might mean showing off an old fashioned shaving kit, antique glass bottles, or even artisan soap, natural sea sponges, or any assortment of decorations. This is a little less than perfectly practical, but it creates a unique opportunity to re-envision the bathroom vanity as a statement piece rather than a utilitarian cabinet.
As simple as the vanities themselves are, they also make an impressively nice way to display an ornate vessel sink. Like a simple display pedestal, basic open bathroom vanities offer a distraction-free, neutral wood base that can give a highly decorative sink the appearance of a museum display. Whether the sink is made of natural stone, hand painted glass, or even hand-hammered copper, a simple bathroom vanity can actually help highlight the beauty of a one-of-a-kind signature vessel sink.
Open bathroom vanities with slatted bases make an excellent pair for spa-style bathrooms. Not only does the open style and abundant white space give them the spacious, breezy feel that spas are so well known for, but the slatted design also meshes well with a wet, steamy atmosphere. Many high end spa bathrooms are starting to use wood plank floors in their showers, to give a little grip and a more natural look and feel to the bathroom, and along with slatted wood benches and other wood accents, these slatted wood bathroom vanities are a great way to complete the look.
If storage is a major concern, look for an open bathroom vanity with some kind of simple base. In addition to being great for display, these are also often just the right size for small decorative wicker storage baskets. This offers a nice way to have a little private storage even in a vanity that doesn't have any built in. With or without tops, these baskets have a casual vibe to them that can give a bathroom a relaxed, laid back feel. A basket filled with rolled up towels or even toilet paper not only creates a cozy spa vibe, but also keeps the necessaries out in the open and easy for guests to find.
For more of these beautiful vanities, read the full article here or check out more designs from Avanity and RonBow.
HomeThangs.com is not only a home improvement superstore, it also provides expert design tips and a comprehensive shopping guide, taking the ideas from professional interior designers, and offering tips to the consumers on how to pick the products to best suit their needs.