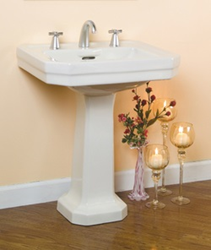 The renewed appeal of pedestal sinks isn't purely aesthetic: in many ways, they're also a very practical choice.
(PRWEB) January 12, 2014
HomeThangs.com – the Online Home Improvement Store – has made it their goal to deliver the right product to the consumer. With that in mind, shopping and home design tips, as well as special product selections, are being introduced.
Pedestal sinks have been getting a lot of attention lately, even beyond the cottage style bathrooms they're typically associated with. Combining a classic look with a surprisingly practical, delightfully simple design, pedestal sinks have become a hot choice for bathrooms of all sizes and designs. HomeThangs.com has released a guide to a few of the distinct advantages they offer.
The popularity of pedestal sinks stems largely from their iconic appearance. Pedestal sinks have been around for more than a hundred years in roughly their current form, and are highly recognizable, even with minor variations in style. They've become something of a shortcut to evoking an old fashioned, antique elegance, and adding one to a bathroom of any size is a great way to add just a little touch of sophistication to the space.
That said, though they're traditional, pedestal sinks aren't too ornate for a contemporary space. Pedestal sinks are made of all sleek, simple lines and stark silhouettes, and have a penchant for creating elegant areas of white space, all of which are essential to a more modern aesthetic. Even the most traditional pedestal sinks, with Romanesque column style bases and fluted sinks, have just that touch of simplicity that makes them really work in a contemporary bathroom.
But the renewed appeal of pedestal sinks isn't purely aesthetic; in many ways, they're also a very practical choice. Porcelain is a very hard, non-porous material that's delightfully low maintenance. And because the sink and counter are built as a single unit, it's easy to just swipe water, soap scum, stray beard hairs, and so on directly into the sink and wash them away. Plus, white porcelain has the added bonus of just looking bright and white and clean all by itself, which can lend an air of tidiness to the space even between cleanings.
Because they lack a lot of surface space, pedestal sinks are also naturally resistant to clutter. On an average pedestal sink, there's room for little more than a toothbrush holder, toothpaste, and soap, meaning the surface remains clearer than on the average bathroom vanity. Of course, this is double edged, as it stems from pedestal sinks' general lack of storage, but it still offers a good reinforcement for keeping a clear, uncluttered bathroom.
One of the greatest strengths of pedestal sinks is that they're small without feeling overly utilitarian. On average, they're narrower than the typical "small" bathroom vanity at their widest point, and are much, much narrower from the counter down. This opens up the bathroom both practically and visually, leaving more room for other fixtures and storage, all while making the space feel open and airy and not overwhelmed by a hefty piece of furniture.
Having a compact footprint is definitely an asset in a small bathroom, but pedestal sinks also work well in larger spaces for the simple reason that it's easy to custom build storage cabinets around them. Having personalized storage is much more efficient even than a very large cookie cutter bathroom vanity, and building a cabinet frame around a pedestal sink or between two of them not only keeps lots of storage close at hand, but also makes for a lovely, personalized installation.
To see some great ideas for pedestal sinks in different style bathrooms, check out the full article here.
HomeThangs.com is not only a home improvement superstore, it also provides expert design tips and a comprehensive shopping guide, taking the ideas from professional interior designers, and offering tips to the consumers on how to pick the products to best suit their needs.