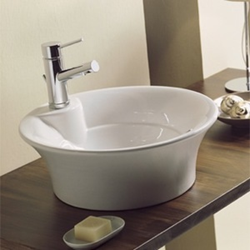 One of the biggest fears about incorporating any type of wood into a bathroom is water damage, but there are a variety of ways to minimize or eliminate the risk, even in very wet or humid spaces.
(PRWEB) February 20, 2014
HomeThangs.com – the Online Home Improvement Store – has made their goal to deliver the right product to the consumer. With that in mind, shopping and home design tips, as well as special product selections are being introduced.
Reclaimed wood is becoming one of the hottest materials in all of home design this year, a nice convergence of the trend toward a more rustic, industrial style decor and homeowners' growing desire to use sustainable materials. Surprisingly, this is even true in the bathroom – a space where wood is traditionally a no-no – with reclaimed wood making an appearance all over the bathroom. HomeThangs.com has introduced a guide to a few less traditional ways to incorporate reclaimed wood into a major bathroom remodel.
Unique, sculptural pieces of wood should be used as a focal point of the bathroom, and the best way to do this is to use it as a bathroom vanity. An attractive board bolted to the wall with a vessel sink on top is doubly attractive, and requires minimal cost and installation. To protect against water damage, be sure to apply a heavy duty waterproofing finish or varnish.
Wood shower floors are another unique way to integrate wood into the bathroom, though it's probably the least rough and tumble or "reclaimed" option on this list. They typically consist of a recessed shower pan with solid wood planks (usually teak) laid over it. These feel amazing underfoot, and because they're usually made with wood that's resistant to water and mold, they're perfectly hygienic and don't require much special care.
Reclaimed barn doors have been showing up in all areas of home design, including the bathroom. Because barn doors need to be installed on rolling rails (like a pocket door without the "pocket"), they aren't the best for replacing a door that should be locked, but are absolutely perfect for dividing the bedroom and bathroom portions of a large master suite.
Applying reclaimed wood to the bathroom walls can be tricky. Unless the wood being used is in pristine condition, the space will start feeling very rustic very quickly. The darker and more heavily weathered the wood, the more closed the space will feel. To get a lighter, brighter, more contemporary look, think a little smaller scale: like a half wall, accent wall, or even a wood-finished ceiling and leave the surrounding walls white or a light, warm neutral to help brighten the space.
One of the biggest fears about incorporating any type of wood into the bathroom is water damage. Not all types of wood are susceptible to moisture damage, but many are, and unfinished, heavily weathered wood can be especially vulnerable. The good news is, many manufacturers are responding to exactly this problem by producing whole lines of wood print tile. These are porcelain tiles the size and shape of wood planks that have been printed with high definition images of actual reclaimed wood pieces. These can be installed on the floors, on the walls, or even in the shower and are totally water resistant and won't cause splinters.
Reclaimed wood isn't the only salvaged material that's getting some attention this year, and adding rugged, unfinished quarried stone is a great way to balance out a lot of wood accents. Together, they create a space that's very rustic and earthy, but that feels a bit more open and cottage like because there's a better balance of materials.
To see how these beautiful reclaimed wood accents look in a finished bathroom, check out the full article here.
HomeThangs.com is not only a home improvement superstore, it also provides expert design tips and a comprehensive shopping guide, taking the ideas from professional interior designers, and offering tips to the consumers on how to pick the products to best suit their needs.