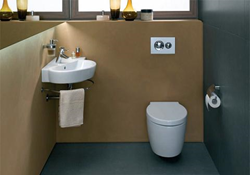 Having a water closet or other privacy measures in a master bathroom is an upscale feature that will appeal to many buyers.
(PRWEB) August 07, 2013
HomeThangs.com – the Online Home Improvement Store has made their goal to deliver the right product to the consumer. With that in mind, shopping and home design tips, as well as special product selections are being introduced.
One of the most popular home renovations these days is converting a master bathroom into a luxury spa suite. Luxury bathtubs, walk-in showers, heated floors, and the like are all hugely popular – which means a major return on investments. But one of the more important aspects of designing a large master suite is also the least discussed: privacy. A master bathroom is meant to be used by two, and with lots of features designed for long soaks, and leisurely unwinding, it's almost inevitable that it will need to be used by both people at the same time.
Privacy is often only mentioned briefly if at all because every couple has different comfort levels when it comes to sharing a bathroom. Some couples have no problem using a bathroom at the same time, while others would be mortified by the very suggestion. The layout of a master bathroom will likely reflect any given couple's feelings on the matter, and different layouts offer varying degrees of privacy for different project scopes.
One of the simplest ways to add privacy to a master bathroom is to install a separator between the toilet and the rest of the bathroom. This can be anything from a 1/2-3/4 wall to a small protrusion separating the toilet from the rest of the bathroom. This is the most basic form of visual barrier to separate a toilet from the rest of the bathroom, and also one of the least expensive, as it likely won't require any plumbing to be rerouted or any other significant alteration of the layout of the bathroom. It also won't close off a portion of the bathroom, making it an ideal option for smaller master bathrooms that might not have space for a more elaborate setup.
For a little more privacy, a toilet can be placed behind a ceiling-high barrier or in a specially created alcove. Like a half wall, these aren't entirely closed off but offer a greater degree of visual privacy and spatial distance without taking up too much floor space or visual space. For a larger bathroom, it's entirely possible to use the layout of the bathroom itself to hide the toilet, behind a dividing wall in the middle of the room or simply on the far side of one fixture or another with a small wall in between. If layout and plumbing options are flexible, this is an elegant way to address the problem of privacy without closing off the bathroom.
For couples that often find themselves competing for the bathroom, it might be wise to go ahead and create a water closet. This is a rather European option that involves creating an enclosed space – essentially, a separate room that contains a toilet, a wall mounted sink or small vanity, and sometimes a small shower that allows basic toiletries to be attended to in a separate, private space from the main bathroom (which may contain a bathtub, vanity, and makeup station).
To create total bathroom privacy, the toilet must be completely isolated from the rest of the bathroom. A walled off, enclosed space about 33″ by 66″ with a standard door creates a space similar to a very nice bathroom stall and allows for some soundproofing and separate air circulation from the rest of the bathroom. This effectively creates a bathroom within the bathroom that affords total privacy when the main bathroom is in use. Of course, this is also a pricier setup, and one that should probably be reserved for larger master bathrooms, as it can noticeably reduce the size of the bathroom suite.
Including privacy features is worth considering regardless of each couple's comfort levels. After all, most major renovations should consider resale appeal almost as much as personal appeal, and having a water closet (in some shape or form) is an upscale feature that will appeal to many buyers. Even a simple half-wall barrier can be that one thoughtful touch that can make the difference to a future buyer.
To see some of these options in action, read the full article here.
HomeThangs.com is not only a home improvement superstore, it also provides expert design tips and a comprehensive shopping guide, taking the ideas from professional interior designers, and offering tips to the consumers on how to pick the products to best suit their needs.