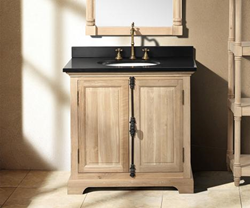 For those really concerned about water damage, the safest way to incorporate a little wood into a natural bathroom design is with a wood bathroom vanity.
(PRWEB) September 30, 2013
HomeThangs.com – the Online Home Improvement Store has made their goal to deliver the right product to the consumer. With that in mind, shopping and home design tips, as well as special product selections are being introduced.
Tile is the most popular material in bathroom design, to the point that it's often less a question of tile versus something else and more a question of what type of tile to use – in the shower, on the floor, and even on the walls. But with the trend toward more relaxed, natural, spa like bathroom spaces, wood has become an increasingly popular option in all areas of the bathroom. HomeThangs.com has introduced a guide to a few of the places where wood works the best.
One of the most popular new ways to incorporate wood into a bathroom is one that's historically the most taboo: wood floors. Many people have the impression that hardwood floors in a bathroom are a recipe for disaster. But some types of wood can actually hold up quite well to water, and a simple waterproof finish can go a long way to increase any wood floor's durability. It's important to note, though, that damaging the wood is only half the concern: the material underneath a wood floor can actually be more susceptible to damage than the wood itself.
A tongue-and-groove installation can help prevent water from seeping in between the planks and to the sub floor, and installing a waterproof material (like tar paper) can prevent water from getting through entirely. Other than their slight aversion to moisture, wood floors are actually great for the bathroom, as they're warm to the touch and are much less slippery than tile. That said, to get the look of wood floors without the extra upkeep, consider opting instead for wood printed porcelain tile. These come in long, wood-like planks and are printed to look like the real deal, but are made of porcelain, and offer all the water-resistant benefits of tile.
Wood shower floors are a nice compromise for anyone that loves the look of wood in the bathroom but doesn't want to go all out with a full wood floor. These are made of highly water-friendly woods (usually teak) and are either installed directly into the shower floor or, more commonly, are used to build inset planks above a tiled floor or shower pan. These are much less slippery than a tile shower floor and feel great underfoot.
Wood plank walls are one of the safer options for getting wood into a bathroom, since water is less likely to collect on walls than on the ceiling or floor. Again, a tongue and groove installation can keep water from getting through. Wood planks can often be installed directly to the existing drywall, and depending on the size of the planks, the finish, and the orientation of the wood, can create an amazing variety of different looks.
Wood ceilings – either ones made entirely of wood or simply ones featuring wood beams – are another excellent way to bring a warm, natural element into a bathroom. Of all the items on this list, this is far and away the most involved and architectural one, but one that's attainable even if it isn't built in. Shiplap boards can be applied to a ceiling as well as a wall, and beams can be decorative as well as structural.
For those really concerned about water damage, the safest way to incorporate a little natural wood into a bathroom design is with a bathroom vanity. Wood bathroom vanities come in every type of wood, every stain and finish, and every type of veneer. For that relaxed feel, look for bathroom vanities with lighter blonde or golden wood tones. These reflect light better, and have an unfinished, homey quality without the risk of water damage.
To see some of these ideas in action, check out the full article here.
HomeThangs.com is not only a home improvement superstore, it also provides expert design tips and a comprehensive shopping guide, taking the ideas from professional interior designers, and offering tips to the consumers on how to pick the products to best suit their needs.