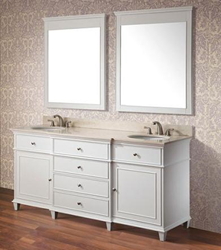 Upgrading to tile flooring is one of the best ways to boost the appearance and value of a bathroom.
(PRWEB) December 30, 2013
HomeThangs.com, the Online Home Improvement Store, has made their goal to deliver the right product to the consumer. With that in mind, shopping and home design tips as well as special product selections are being introduced.
Having an attractive, up-to-date bathroom is one of the most desirable features in all of contemporary home design, but there are a variety of reasons that an extensive or involved renovation might not be in the cards. But even with limited time or on a limited budget, there are a few great ways to dramatically improve the appearance of a bathroom. HomeThangs.com has introduced a guide to a few high-impact projects that are quick, affordable, and DIY friendly.
Paint
Repainting is a go-to fix for changing the look and feel of a bathroom. Putting a new coat of paint on the walls can make a huge difference for almost no money, and is easy enough to do without hiring a professional. It's worth noting that painting doesn't have to be limited to the walls: sanding down and repainting dated bathroom cabinets can make the whole bathroom look like new without the cost or hassle of replacing the bathroom vanity entirely.
Hardware
Swapping out the bathroom hardware is a simple, easy followup to painting. On the walls, that means towel bars, toilet paper holder, and other bathroom accessories that will be removed during the painting process anyway. The same goes for the bathroom vanity: replacing knobs and pulls with more stylish ones once the painting is done is a great way to complete the transformation and keep the hardware coordinated throughout the bathroom.
Plumbing Fixtures
Replacing plumbing hardware – like the faucet, tub spout, and shower head – can have a similar effect. If the current fixtures are visibly old, corroded, or cheap, replacing them can make the whole space feel more updated and even cleaner. What's nice about this project is that it scales well to just about any budget. There are really nice looking faucet sets available for not more than a few hundred dollars, and really high end, luxury fixtures that will cost a little more, but add spa style functionality. Either way, shower heads, tub spouts, and bathroom faucets are all pretty straightforward to replace, too, which makes this a great DIY project.
Mirror
Replacing the bathroom mirror is an amazingly easy way to alter the look of a bathroom. Mirrors with decorative frames – of the ilk typically found in a living room or bedroom – are great for giving a bathroom a unique, designer flair and are light enough to install quickly and easily. The only time this project strays out of the scope of DIY is when replacing a large, frameless mirror, as these can be quite a bit more difficult to remove. That said, while replacing a large mirror with a smaller one can make a bathroom seem a bit smaller, swapping from a frameless to a framed mirror can add personality and polish to the space that can help make up for the loss of reflective surfaces.
Tile Flooring
Upgrading to tile flooring is one of the best ways to boost the appearance and value of a bathroom. Stone tile is great for high end bathrooms, but upgrading from a cheap vinyl to even a very basic ceramic or porcelain tile will offer huge returns for a much more reasonable price. Plus, faux stone and wood print tiles are all the rage these days, meaning it's possible to get that great, high end look without having to pay a premium for flooring. Installing tile can be a DIY project, but it's one that shouldn't be undertaken without the proper skill set. Well laid tile is worth the splurge, as it can prevent bigger problems down the line.
To see some of these ideas in action, check out the full article here.
HomeThangs.com is not only a home improvement superstore, it also provides expert design tips and a comprehensive shopping guide, taking the ideas from professional interior designers, and offering tips to the consumers on how to pick the products to best suit their needs.