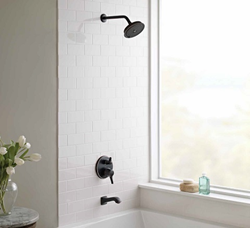 Replacing the hardware in a bathroom, from drawer pulls to shower heads, can really transform the appearance of the space for only a few hundred dollars.
(PRWEB) March 06, 2014
HomeThangs.com – the Online Home Improvement Store has made their goal to deliver the right product to the consumer. With that in mind, shopping and home design tips, as well as special product selections are being introduced.
Really nice looking bathrooms can be a major selling point in any home, and are one of the main features that buyers will look for. But for those already getting ready to sell, it probably isn't a good time for an extensive bathroom renovation. HomeThangs.com has introduced a guide to small, budget friendly DIY projects that will improve the presentation of the bathroom without a major renovation.
Basic bathroom hardware, like towel bars and toilet paper holders, will really show the age of the bathroom, especially if they've been in place for a while or were inexpensive to start. The good news is, they can be replaced with nothing but a screwdriver and replaced in less than an hour. It's important to purchase all these items from the same company and collection to make sure all the finishes and styles are coordinated, but simply upgrading to a slightly more intricate design or a more eye-catching finish can make a huge difference in the overall appearance of the bathroom.
Replacing cabinet hardware is another incredibly simple project that will instantly improve the impression the space makes on potential buyers. It seems like a trivial thing, but making a deliberate choice of coordinated cabinet hardware can really help unify the space and give it a fresh new look.
Slightly more experienced DIYers should consider replacing the bathroom faucet as well. Old taps tend to show water spots that no amount of elbow grease will totally remove, so new fixtures will give the bathroom a sparkling clean quality. Plus, replacing a standard faucet with a more stylish or modern one can really make the space feel more luxurious.
To complete the look, replace the tub spout and shower head as well. Both can be installed by a confident DIYer. Any matching set will do, but consider upgrading the shower head to a really nice multi-jet massage sprayer shower head or even an elegant, European style hand shower – either of which will really appeal to buyers, but shouldn't cost too much more than a standard model.
Smaller cosmetic changes are important, too. Replacing basic bathroom accessories – from toothbrush holders and soap pumps to trash cans and shower curtain rings – can give a bathroom a much more polished, finished look. Sets of matching accessories are fairly cheap, but even something as simple as a nice soap and lotion set or a decorative jar for cotton swabs can help.
Buying a new set of towels can make the whole bathroom feel much more inviting, and can help create a coordinated color scheme. Really nice, plush towels will make an especially good impression, and come with the added benefit that they don't have to stay with the house when it's sold. If the bathroom has a shower curtain, replace it, period, and preferably with a cloth curtain rather than a plastic one.
Last but certainly not least, put up a new coat of paint. Paint is affordable and easy to apply, and combined with some of these other techniques – or even all on its own – a quick coat of paint will completely freshen and revitalize the space and really set the stage for a buyer to see your bathroom as a fresh, finished space rather than a big project in the making.
For more DIY bathroom ideas, or some cost estimations of some of these projects, check out the full article here.
HomeThangs.com is not only a home improvement superstore, it also provides expert design tips and a comprehensive shopping guide, taking the ideas from professional interior designers, and offering tips to the consumers on how to pick the products to best suit their needs.