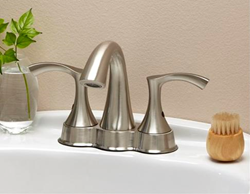 When shopping for a less expensive faucet, the most important thing to do is exclude faucets that are really just cheap - meaning any faucet that costs less than about $50.
(PRWEB) December 13, 2013
HomeThangs.com – the Online Home Improvement Store has made their goal to deliver the right product to the consumer. With that in mind, shopping and home design tips, as well as special product selections are being introduced.
A great bathroom faucet can totally transform the look and feel of a bathroom vanity. Unfortunately, really nice, designer faucets are rarely cheap, so it can be tempting to just skimp on this feature entirely and opt for a bargain bin faucet. The good news is it doesn't necessarily have to be one or the other: HomeThangs.com has introduced a guide to some great designer bathroom faucets for a hundred dollars or less.
When shopping for a less expensive faucet, the most important thing to do is exclude faucets that are really just cheap – meaning any faucet that costs less than about $50. There are hundreds of bathroom faucets out there that cost as little as $15 or $20, but these have cheap finishes, plastic parts, and a near guarantee that they won't last long. At around the $50 mark, faucets take a steep upswing in both appearance and quality.
Second, rule out any faucet that has acrylic handles. The "diamond" cut design is extremely dated and, worse, are both difficult to clean and can be hard to turn on and off. Instead, look for faucets with lever style handles. Even if they're on the smaller side they'll look more updated, as well as being easier to use and keep clean.
Generally speaking, right now the trend is to have a bathroom faucet with bigger handles spaced farther apart – ideally with the center point of the handles about 8 inches apart (aka, an 8″ spread). Now, this is an upgrade that has to be paired with a new vanity top, which means it should be reserved for a larger remodel. That said, there's actually a pretty decent selection of widespread bathroom faucets in the $100 range, making this look very attainable.
To get a similar look without replacing the vanity top, remove the existing faucet and replace it with a 4" spread faucet that's sold in three separate parts – the two handles and the main faucet. These mimic the look and feel of a widespread faucet, but unfortunately there aren't many in the $100 and under range. Another option is lookalike faucets, which are sold in a single piece, but have long, lever style handles and a tall neck to help evoke that luxurious, spread-out look.
There's also an impressive variety of vessel sink faucets available for less than $100. The simple reason, of course, is that post-style faucets with only one handle simply have fewer moving parts than more conventional two handle models, but what that means is it's possible to get a great designer look for a fraction of the price. Look especially for faucets from companies that specialize in bathroom vanity combos, as they tend to offer great styles at lower prices, even if they aren't paired with a matching vanity.
A non-vessel, single-hole faucet installation is really the best way to go to get a great faucet for a really low price. Many modern single handle faucets are designed with a vessel faucet style single post installation, which has a much nicer, more streamlined look than the traditional wide-based single handle faucets. Even if the look of the bathroom isn't particularly "modern," this type of bathroom faucet will make the sink area seem more spacious, and can even afford a little extra counter space.
For more beautiful, affordable faucets, check out the full article here.
HomeThangs.com is not only a home improvement superstore, it also provides expert design tips and a comprehensive shopping guide, taking the ideas from professional interior designers, and offering tips to the consumers on how to pick the products to best suit their needs.