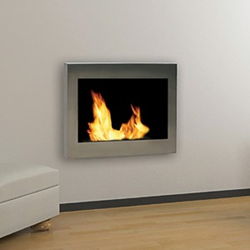 Biofuel fireplaces come in such a wide variety of sizes and shapes that it's possible to install one almost anywhere in the bathroom, and because they use a clean burning liquid fuel, they require no ventilation or gas hookups.
(PRWEB) February 03, 2014
HomeThangs.com – the Online Home Improvement Store – has made their goal to deliver the right product to the consumer. With that in mind, shopping and home design tips, as well as special product selections are being introduced.
There are more than a few ways to warm up a cold bathroom, but one of the most stylish is also one of the rarest: the bathroom fireplace But this offbeat option is becoming more common – and more popular – as biofuel fireplaces become more widely available. HomeThangs.com has introduced a simple guide to using this dramatic, eye catching feature to raise the temperature in a master bathroom.
Except in new construction or maybe a very old building, full built in fireplaces in a bathroom are pretty rare. But while conventional wood fireplaces require a lot of construction just to make sure they're adequately vented, modern biofuel fireplaces don't. They're completely self-contained and can be installed just about anywhere, often with little or no actual construction. Biofuel fireplaces create a real, live flame just like a traditional fireplace, but use ultra clean burning ethanol fuel in place of wood or natural gas, so they don't need a chimney or flue.
Biofuel fireplaces are typically contained within a glass or metal rectangular enclosure with a small fuel reservoir in the bottom. The size of the reservoir controls the height of the flame, meaning the whole fireplace unit can be safely installed into a wall without any ventilation. And because the liquid fuel is completely clean burning, there are no harmful emissions that need to be vented, either: the flame only produces heat and a small amount of carbon dioxide.
Unlike natural gas fireplaces, biofuel fireplaces burn entirely on their own and don't need to be hooked up to extensive gas lines. Once the reservoir is filled with liquid fuel, they can be ignited with a long match or grill lighter and burn for about five hours, depending on the size of the fireplace. The flame can easily be covered up to extinguish it between uses, too, meaning it can easily be used for shorter periods as well.
In a bathroom, the most common place for a fireplace is generally right alongside a large, freestanding soaking tub. This adds a nice extra dimension of luxury as well: it makes a hot bath even warmer, is at just the right height to look at while soaking, and offers a simple storage ledge for easy access from the tub.
Because biofuel fireplaces come in such a wide variety of sizes and shapes, it's possible to install one almost anywhere in the bathroom. Thinner models can easily be recessed into the wall, while larger freestanding models can be placed in the center of the room, and smaller ones can even be used as table top decorations. They put off a decent amount of heat, too. Depending on their size, biofuel fireplaces can produce up to 8500 BTUs per hour, or enough to heat about 375 square feet. Because no heat is lost up a chimney, they're much more efficient than traditional fireplaces, too.
It's also becoming quite popular to install double sided fireplaces that are open to the bathroom on one side and the bedroom on the other. This allows the fireplace to do double duty, heating both the bathroom and the bedroom and providing the beautiful look of a fireplace to both rooms at once. This type of bathroom fireplace can help connect a master suite, providing a little barrier if there is none or little glimpses through instead of a solid wall. Unfortunately, the heat will also be divided between both spaces, which can make the heating aspect less, but still look beautiful from both sides.
To see some gorgeous bathroom fireplaces in action, read the full article here, or check out more great fireplaces from BioFlame and Anywhere Fireplace.
HomeThangs.com is not only a home improvement superstore, it also provides expert design tips and a comprehensive shopping guide, taking the ideas from professional interior designers, and offering tips to the consumers on how to pick the products to best suit their needs.