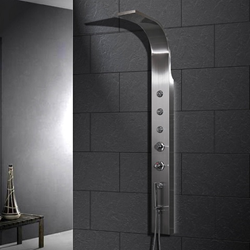 Pre-made steam shower enclosures not only come with all the plumbing built in, but also have picture-perfect glass walls that eliminate the need to tile the shower as well.
(PRWEB) December 10, 2014
HomeThangs.com – the Online Home Improvement Store has made their goal to deliver the right product to the consumer. With that in mind, shopping and home design tips, as well as special product selections are being introduced.
Building a dream bathroom is often as much an exercise in money management as it is in design: getting the most features possible with the funds available. But a limited budget doesn't have to mean a luxurious bathroom is out of reach. It just means that buying smart becomes an even bigger priority. HomeThangs.com has introduced a guide to using budget-friendly fixtures from Ariel to build a dream bathroom without breaking the bank.
Many high end showers require installation that's both extensive and expensive, including major demolition and construction. But in many cases there are much simpler alternatives that can be installed with little or no renovation, but that give the same decadent shower experience. Shower panels are an attractive modern stand-in for full custom showers. Steam shower units install as easily as a traditional shower enclosure, but are steam tight, have multiple shower heads and body sprayers built in, and are much more modern and elegant looking than a conventional acrylic shower/tub.
Ariel offers bathtubs with luxury functionality – like air jets, water jets, or even a walk-in design – at highly competitive prices, making it possible to find room for a whirlpool even on a limited budget. Ariel also carries a full line of high efficiency toilets, each equipped with dual flush functionality and sleek, streamlined modern designs that are the perfect way to add personality to a high end bathroom.
For more thoughts on how to use affordable brands to build a dream bathroom, check out the full article here.
HomeThangs.com is not only a home improvement superstore, it also provides expert design tips and a comprehensive shopping guide, taking the ideas from professional interior designers, and offering tips to the consumers on how to pick the products to best suit their needs.