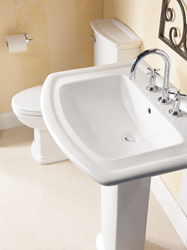 While even a small vanity can dominate a bathroom, pedestal sinks are more like a svelte accent, making the room seem larger by their smallness and making it possible to put fixtures closer together without them seeming crowded.
(PRWEB) April 03, 2015
HomeThangs.com – the Online Home Improvement Store has made their goal to deliver the right product to the consumer. With that in mind, shopping and home design tips, as well as special product selections are being introduced.
Pedestal sinks are a common choice for small bathrooms – from the conventional country cottage style to something a little more modern, pedestal sinks are often the go-to choice for a tight space. But these sinks aren't without their drawbacks: they don't have any built in storage, and generally don't have much in the way of surface space, which flies in the space of most conventional wisdom regarding small bathrooms. HomeThangs.com has introduced a new guide to just why pedestal sinks work so well in a small bathroom, despite their apparent shortcomings.
There are two main factors that contribute to the functionality of a small bathroom: how well any given fixture works, and how well it fits. Where pedestal sinks fall short in the former with their lack of storage, they more than make up for in the latter. The lean, tapered design of a pedestal sink is not only physically smaller than a standard vanity (which means more open floor space), it also feels smaller, with ample white space that can make a small bathroom feel less crowded. They also leave plenty of room for customizable, supplemental storage (which is often more efficient than built in drawers or cabinets), while enforcing a no-clutter policy because there simply isn't much space to leave items out on the surface of the sink.
For a more in-depth look at why pedestal sinks work so well in a small bathroom, check out the full article here.
HomeThangs.com is not only a home improvement superstore, it also provides expert design tips and a comprehensive shopping guide, taking the ideas from professional interior designers, and offering tips to the consumers on how to pick the products to best suit their needs.