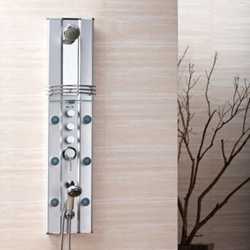 Upgrading from an inexpensive, single-function shower head to one with multiple functions is a huge transformation, with better water pressure, more customizable settings, and a better over-all sensation, often while using less water.
(PRWEB) February 19, 2015
HomeThangs.com – the Online Home Improvement Store has made their goal to deliver the right product to the consumer. With that in mind, shopping and home design tips, as well as special product selections are being introduced.
Big, luxurious, walk-in showers have become one of the most desirable features in bathroom design. Unfortunately, installing a true custom shower can be extremely expensive, invasive, and time consuming. HomeThangs.com has introduced a guide to five middle-of-the-road options that are affordable and simple to install, but that offer a similarly decadent shower experience.
1. Shower Panels
Shower panels are the simplest solution to building a more luxurious shower without the expense. Instead of installing multiple shower heads directly into the shower walls, which requires extensive demolition, plumbing work, and re-tiling, shower panels consist of multiple shower heads attached to a single, easy-to-install unit that replaces the existing shower head. These use less water than a true custom shower, so they might not have the same amount of water pressure, but they do offer a great all-over, full-body shower experience.
2. Shower System
Shower systems or shower pipes, like shower panels, offer multiple shower heads without any invasive construction. They tend to be a bit leaner and sleeker, though, with a rainfall showerhead mounted up high, and a hand-held shower that can be adjusted up or down to be used as a normal shower head or a body sprayer.
3. Rainfall Shower Heads
Rainfall shower heads can also be installed on their own, and can even replace the existing shower head (though they'll usually need a new shower arm as well). Rainfall shower heads are an iconic feature of luxury showers, as they offer a unique spa-like shower experience, but be aware that the big, free-falling drops of water they produce are great for relaxing, but less than ideal for washing hair.
4. Hand Showers
Hand showers are only just starting to catch on in the US, but they're a simple and smart solution that works for any shower. Instead of having a fixed shower head, hand showers are attached to a long hose and hung on a hook, which means they can be detached and used to target specific parts of the body or even rinse out the inside of the shower. Some models are designed to slide up and down along a bar so, as with a shower pipe, they can be used as a makeshift body sprayer, too.
5. A Quality Shower Head
Sometimes, though, the biggest difference can come from the smallest changes. For those with an old, corroded, or otherwise unimpressive shower head, simply upgrading to a quality multi-function shower head can vastly improve the experience of using the shower, even without making any other changes or upgrade.
For a more in-depth look at each of these options, check out the full article here.
HomeThangs.com is not only a home improvement superstore, it also provides expert design tips and a comprehensive shopping guide, taking the ideas from professional interior designers, and offering tips to the consumers on how to pick the products to best suit their needs.