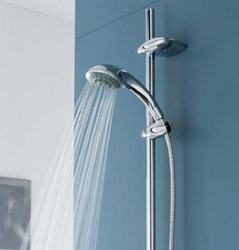 Shower systems that divide a single stream of water between multiple heads recreate a custom shower sensation, but use the same amount of water as a standard shower head and don't require any plumbing upgrades.
(PRWEB) January 14, 2014
HomeThangs.com – the Online Home Improvement Store has made their goal to deliver the right product to the consumer. With that in mind, shopping and home design tips, as well as special product selections are being introduced.
Big, luxurious, walk-in showers have become one of the most desirable features in bathroom design. They're convenient enough to use even for those who have a busy schedule, and scale well to any size bathroom or budget. While true custom showers involve a lot of expensive and invasive construction, there are a few ways to get the same luxury bathing experience without tearing out a wall. HomeThangs.com has introduced a guide to five luxury shower upgrades that take about 15 minutes, no contractor needed.
The shower panel is one of the simplest and most elegant alternatives to an extensive custom shower. These offer multiple shower heads and body sprayers all contained in a single unit that installs directly to the existing shower arm. While traditional custom showers require plumbing to be run through the walls and drains to be widened, not to mention often a water heater upgrade, shower panels require none of these changes, and install as easily as a new standard shower head, dividing the water between all the shower heads rather than supplying each one individually.
Shower systems are high-end units that couple an over-head rainfall shower head with a hand shower. These are sometimes paired with tub fillers, and are usually designed with an adjustable bar that allows the hand shower to be raised or lowered so it can double as a body sprayer. These are similar to shower panels in that they install directly onto the existing shower arm and don't require any alteration of the plumbing, but require a slightly more complicated installation, as the shower bar will need to be installed into the tile. That said, these tend to have a more polished, finished look than shower panels, and are made entirely of metal, without any plastic parts.
Rainfall shower heads are a common component of big, custom designed spa showers. These are bigger in diameter than the average shower head, and are mounted higher than average - sometimes even on the ceiling. Designed with a broad face and wide nozzles, rainfall shower heads allow water fall rather than flow out of the shower head, dripping in large, fat droplets that feel like rain. These can be installed in a standard shower by replacing the shower arm with one that curves upward, raising the height of the shower head to allow it to drip down properly.
Upgrading to a simple hand held shower – which is a standard shower head affixed to a long, flexible hose – is perhaps the most gimmick-free way of getting a more luxurious bathing experience without tearing out a wall. The hose allows bathers to control the flow of water for a very simple form of hydrotherapy, and can even make it easier to clean the shower or anything in the shower, like a family pet. Simply remove the existing shower head and arm, screw the hose into the opening, and hook the shower head onto the provided cover plate.
For those with particularly out of date, cheap, or corroded shower heads, perhaps the simplest upgrade might be the most effective: replacing the old shower head with a new luxury model. Certainly this isn't the same as a custom shower, but upgrading from an inexpensive, single-function shower head to one with dozens of nozzles and five or more functions is a huge transformation. Look to spend between $100-200 on a good, well made multi-function model to get the most out of the investment, then just remove the old shower head, screw on the new one, and voila - the most budget friendly spa shower out there.
HomeThangs.com is not only a home improvement superstore, it also provides expert design tips and a comprehensive shopping guide, taking the ideas from professional interior designers, and offering tips to the consumers on how to pick the products to best suit their needs.