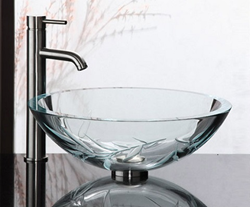 Vessel sinks offer an easy way to add a little signature touch to a bathroom, but they're fundamentally different from traditional sinks in a few small but crucial ways.
(PRWEB) June 22, 2015
HomeThangs.com – the Online Home Improvement Store has made their goal to deliver the right product to the consumer. With that in mind, shopping and home design tips, as well as special product selections are being introduced.
Vessel sinks have become a hugely popular option for both guest bathrooms and master suites. But unlike most traditional sinks, upgrading to a vessel sink isn't a simple one-to-one swap; it's often a much more involved installation, a more extensive renovation, and results in a few subtle changes that it can be easy to overlook. HomeThangs.com has introduced a simple guide to some of the challenges of swapping to a vessel sink, as well as the most important differences to be aware of.
First and foremost, it's impossible to upgrade to a vessel sink without also replacing the vanity top. The reason for this is simple: because vessel sinks sit on top of the vanity rather than nesting inside or underneath the vanity top, the opening in the vanity top should only be large enough to accommodate the plumbing, not the whole sink. The drillings for the faucet also typically need to be different. Most vessel sinks use a tall, post style faucet rather than the more conventional three-hole centerset layout, because they're easier to access with an above-counter sink. Countertop aside, vessel sinks are quite DIY friendly, and even allow for better and more intuitive storage space inside the cabinet itself.
For more tips about installing a new vessel sink, check out the full article here.
HomeThangs.com is not only a home improvement superstore, it also provides expert design tips and a comprehensive shopping guide, taking the ideas from professional interior designers, and offering tips to the consumers on how to pick the products to best suit their needs.