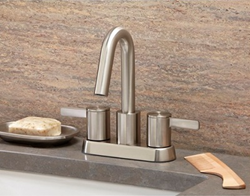 Many low flow shower heads lack the water pressure of higher flow models, so it's important to find one that makes up for the lack of output volume with enhanced aeration and pressurization.
(PRWEB) May 10, 2014
HomeThangs.com – the Online Home Improvement Store has made their goal to deliver the right product to the consumer. With that in mind, shopping and home design tips, as well as special product selections are being introduced.
Installing water efficient fixtures is hands down the best splurge to make during a bathroom remodel of any size or scope. Not only will these fixtures immediately begin paying for themselves in water savings, they'll also appeal to potential future buyers, who are increasingly looking for more eco friendly bathrooms. HomeThangs.com has introduced a guide to painlessly make the swap to lower-flow fixtures.
WaterSense Faucet
When it comes to improving water efficiency in the bathroom, the absolute easiest swap is to upgrade an existing faucet to a low flow or WaterSense rated model. It's also a swap it won't hurt to make, as special aerators in the tap help increase the sensation of water pressure while actually decreasing the rate of flow. Depending on the existing tap, the flow might even be stronger rather than the other way around.
Toilet
Toilets are among the biggest water wasters in the home, to the point that upgrading even one toilet to a low flow model can have a noticeable impact on the monthly water bill. Dual flush toilets, which have two flush settings (a "big flush" and a "little flush"), offer even greater savings, as they only use as much water as is needed for each flush. Modern low flow toilets are also better designed and more efficient than ones released a decade ago, so they'll never need more than one flush to get the job done.
Shower
If there's one thing people are reluctant to replace, it's their shower heads, because some low flow shower heads can feel positively puny. That said, swapping from an old style to a low flow shower head means a 20% water savings, so this is a swap that's worth making – it's just important to find a shower head that makes up for the lack of output volume with aeration and pressurization. The bad news is, these less obviously low flow shower heads tend to be a little more expensive. The good news is, they're often really nice, luxury shower heads that make for a great shower experience.
Shower Panel
There's a big trend in bathroom design to upgrade from a standard shower to ones with half a dozen or more shower heads that spray from all directions. But while this luxury is something that will appeal to future buyers, it's also one that can result in shockingly high water bills. To get that immersive spa experience without the extra water consumption, consider installing a shower panel instead. These include multiple shower heads affixed to a single metal or plastic piece, but instead of supplying each individually, they divide the water that would normally go to one shower head between them. The experience won't be exactly the same, but it will be close, and it won't use any more water than a standard shower head.
Steam Shower
Long, hot showers – even with a low flow shower head – use a lot of water. For those who tend to spend a lot of time in the shower, it's worth considering converting the shower into a steam shower. These are totally enclosed, waterproof shower stalls that fill up with thick, velvety steam, creating that same relaxing ambiance, but using only about a gallon of water every 20 minutes as opposed to two gallons or so every minute in a standard shower.
In-Line Heating
Similarly, those who love to indulge in long, luxurious baths in a deep, hefty tub, would do well to consider looking for a bathtub that comes with in-line heating. This is a pretty common feature on large jetted tubs, and basically means that the bathtub circulates the water and heats it. It won't make cold water hot, but it will keep hot water hot, eliminating the need to "top off" the bath with hot water.
For more ideas on how to build a more water efficient bathroom, check out the full article here.
HomeThangs.com is not only a home improvement superstore, it also provides expert design tips and a comprehensive shopping guide, taking the ideas from professional interior designers, and offering tips to the consumers on how to pick the products to best suit their needs.