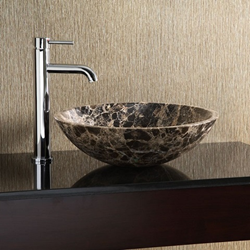 Vessel sinks require more extensive renovation than more traditional sinks, but are actually amazingly easy to install once a properly cut vanity top is in place.
(PRWEB) February 28, 2014
HomeThangs.com – the Online Home Improvement Store has made their goal to deliver the right product to the consumer. With that in mind, shopping and home design tips, as well as special product selections are being introduced.
Vessel sinks are becoming a popular option for bathrooms of all sizes - from petite guest bathrooms to big, sprawling master suites. And it's no wonder: vessel sinks have a glamorous, striking appearance, and are available in a nearly infinite variety of colors, patterns, materials, shapes, and styles. But vessel sinks are fundamentally different from traditional sinks in a few small but crucial ways. HomeThangs.com has introduced a simple guide to some of the most important factors to consider.
The most fundamental difference between vessel sinks and most other types of bathroom sinks is that the sink is installed on top of the vanity top rather than in or under it. What this means is that while standard sized undermount and drop in sinks are fairly interchangeable with each other and with most pre-cut vanity tops, the hole those sinks sit in is too big for a vessel sink to sit on. Without exception, upgrading to a vessel sink from a standard one means replacing vanity top, too.
That said, vessel sinks are probably the simplest bathroom sinks to install. Because they're held in place primarily by their own weight and the drain pipe, installing a vessel sink is only slightly more complicated than simply setting the sink down on the counter and connecting the plumbing. As an added bonus, once a vessel sink is set up, it's amazingly easy to change out that sink, either as part of a smaller bathroom facelift, or even for a seasonal décor swap.
Because vessel sinks sit above the vanity top rather than inside or under it, they require faucets that are a little taller than standard faucets, and because vessel sinks themselves can come in varying heights, it's crucial to ensure the faucet that matches the height of the sink. Most vessel sinks also come in a less traditional post style installation with a single lever handle that controls both temperature and flow, rather than the more traditional three-hole widespread faucet installation.
Having to get a new countertop is a pain, but the fact that vessel sinks go on top of the vanity instead of inside of it means there's actually more room left inside the vanity, which can be a huge bonus. On a normal bathroom vanity, the area directly beneath the vanity top has to be left open to accommodate the bottom of the sink. But vessel sinks eliminate the intrusion of the sink and streamline and reduce the size of the plumbing, making it possible to build drawers around the pipes, making for a more efficient, accessible vanity that provides more storage in the same amount of space.
Most bathroom vanities are designed to be a comfortable average height when paired with a traditional sink. That means doing a one-to-one swap can put the vessel sink at a height that's uncomfortable to use. That's why many vanities that come prepackaged with vessel sinks are often wall mounted: so they can compensate for the height of the sink. For a more traditional style, look for vanities that have legs that can be adjusted for height, or that come with removable "stilts" that allow the same vanity to accommodate a higher sink.
HomeThangs.com is not only a home improvement superstore, it also provides expert design tips and a comprehensive shopping guide, taking the ideas from professional interior designers, and offering tips to the consumers on how to pick the products to best suit their needs.